When northeast Indians salute Tri-colour on R-Day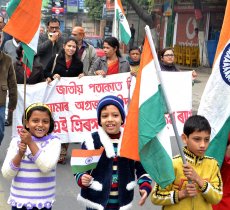 The residents of northeast India, whom the mainstream Indian agencies often consider sympathizers to various separatist militant outfits, joined in 67th Republic Day (of India) celebrations to pay their heartfelt tributes to the martyrs. For the first time in recent decades, the auspicious day on 26 January 2016 was observed without a single incident of violence across the region, surrounded by Nepal, Bhutan, Tibet (China), Burma and Bangladesh.
The people of trouble-torn States of Manipur, Assam, Meghalaya & Na...
continue reading