The Art of the Passive Aggressive Note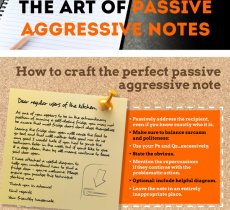 Have you ever felt the wrath of another and received a passive aggressive note? Perhaps you left your car in a space they wanted or you'd forgotten to wash the dishes just one time too many. 20% of people say they have!
Or maybe you're the one leaving the notes yourself, getting sick of your housemates never bothering to scrub the toilet or your work colleagues leaving the microwave in a bit of a state? Even though 83% of people say they've never left one before, we all know that's really because they just don't...
continue reading