7 most ridiculous adult websites
Porn sites are out there waiting to satisfy every possible need you might have. Google gives you
216,000,000 results for the keyword porn
(intrestingly enough, this article was written back in...well, couple of years ago, and now the same search offers 1,410,000,000 results). Newly launched search engine Cuil gives you 377,545,970 results. You don't need to know about them all,
no you don't!
But there are a few you might want to see, the most ridiculous ones.
# Adult Sheep Finder
The name says it all, doesn't it? If you're into sheep then "the world's first ever sheep shagger personals site" is for you. Fortunately, if you are REALLY into sheeps, that site ain't made for you – well, to start from the beginning I really did want to see what sheep lover accessories they are offering there, after all, I'm young, I'm handsome, why not try out new things, right? Unfortunately they say that sheep haven't learned to use internet yet and I'm a bit ahead of my time. And among other things they say "You may now correctly assume that you are by far one of the sickest sons of bitches on the Internet, standing high and mighty above the rest." Nah, I didn't check the site, no, no way, it wasn't me!

# Zombie Harmony
Now this is something a bit different and almost for normal people just like me and you. We all like zombies; I know that for a fact. There seems to be something wrong with their site though, I can't register! But they do have some pretty sexy personals available there – HungryBarbara, LonelyBill, INeed2Feed and so on. Hopefully I can get a date at some point, we'll see, will definitely keep you updated.
# Moan My IP
You know these sex sites where you see a video but for some reason there's no sound? Well, what I would suggest is that you watch the silent video and open this site in another browser window – make sure you have your speakers turned on cause this is gonna get you off! (right)
# Rent A Dildo
You know, the world is going to hell – the prices are increasing in pretty much every part of the world and it's even difficult to afford great sex toys. But wait, for a limited time only, these guys have a solution – you don't need to buy a sex toy anymore, you can now rent it! So the next time your girlfriend asks you for a gift, rent her a dildo, it's cheap, and you can always take it back (okay, you NEED to take it back, but who cares). It's used, and you can be sure that it works – it's tested!
# Suicide Girls
If you don't want a long-term relationship, but don't like the one-night-stands either, here's a solution. Get a girl who won't be with us for too long anymore. I couldn't find any suicide pictures but hey, who else would register on a site like that, right?

# Balloon Fetish
We all have fetishes, I do – I like myself. Every day! But that doesn't matter right now, just thought I'd mention. If you're into balloons, don't worry, you're not alone. There's a crowd of people who need the one thing and one thing only – balloons. This site is meant for your enjoyment.

# BJ the Clown
Now this ain't a porn site, it has nothing to do with the adult scene or porn at all. Yes, I know, it's lame, we all like porn not clowns. This dude just needs to be reported to the proper authorities. He offers his services as a clown in children's birthdays, and he calls himself a BJ – is it maybe a service where there's more included than just pleasure for the kids? I mean maybe it's like pay for 1 but get 2 services. Good idea…I think?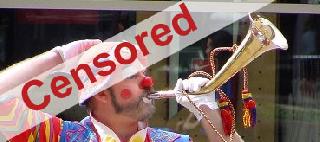 ---
more in Entertainment
Befriend a Book
Embark on a cost-efficient, energy-conserving adventure with a new friend.
The professor and jury duty blues
Every American, sooner or later, gets the daunting request to do their civic duty. We are told that it is our responsibility as American citizens to accept our extra duties willingly and professionally. I disagree. When I'm doing my civic duty, I like to be as difficult as possible as a strike against the laws and systems that we have in place to attack minorities and the youth.
Great American Dumb Ideas: Automatic Citizenship
During a meeting recently one of our most respected members announced that she had been awarded the status of a legal permanent resident of The United States. She would get what is called a "Green Card." There was applause, cheers and congratulations because we knew how long and how hard she had worked at this.
A Mother of a Holiday
I'm not big on planning. In fact, some might say that the entire trajectory of my life has been the result of carefully choreographed lack of planning. I want to plan, I need to plan, but when push comes to shove, everything always seems to boil down to whatever I can throw together on the spur of the moment. This is not a good way to live, but it seems to be the only way I can actually accomplish anything and still maintain some degree of sanity.
Kashmir Remembers Maulana Mustafa Ansari
Srinagar, April 28, Thousands of people assembled in Srinagar to remember the renowned Kashmiri scholar, Maulana Mustafa Hussain Ansari on his second death anniversary.