7 most ridiculous adult websites
Porn sites are out there waiting to satisfy every possible need you might have. Google gives you
216,000,000 results for the keyword porn
(intrestingly enough, this article was written back in...well, couple of years ago, and now the same search offers 1,410,000,000 results). Newly launched search engine Cuil gives you 377,545,970 results. You don't need to know about them all,
no you don't!
But there are a few you might want to see, the most ridiculous ones.
# Adult Sheep Finder
The name says it all, doesn't it? If you're into sheep then "the world's first ever sheep shagger personals site" is for you. Fortunately, if you are REALLY into sheeps, that site ain't made for you – well, to start from the beginning I really did want to see what sheep lover accessories they are offering there, after all, I'm young, I'm handsome, why not try out new things, right? Unfortunately they say that sheep haven't learned to use internet yet and I'm a bit ahead of my time. And among other things they say "You may now correctly assume that you are by far one of the sickest sons of bitches on the Internet, standing high and mighty above the rest." Nah, I didn't check the site, no, no way, it wasn't me!

# Zombie Harmony
Now this is something a bit different and almost for normal people just like me and you. We all like zombies; I know that for a fact. There seems to be something wrong with their site though, I can't register! But they do have some pretty sexy personals available there – HungryBarbara, LonelyBill, INeed2Feed and so on. Hopefully I can get a date at some point, we'll see, will definitely keep you updated.
# Moan My IP
You know these sex sites where you see a video but for some reason there's no sound? Well, what I would suggest is that you watch the silent video and open this site in another browser window – make sure you have your speakers turned on cause this is gonna get you off! (right)
# Rent A Dildo
You know, the world is going to hell – the prices are increasing in pretty much every part of the world and it's even difficult to afford great sex toys. But wait, for a limited time only, these guys have a solution – you don't need to buy a sex toy anymore, you can now rent it! So the next time your girlfriend asks you for a gift, rent her a dildo, it's cheap, and you can always take it back (okay, you NEED to take it back, but who cares). It's used, and you can be sure that it works – it's tested!
# Suicide Girls
If you don't want a long-term relationship, but don't like the one-night-stands either, here's a solution. Get a girl who won't be with us for too long anymore. I couldn't find any suicide pictures but hey, who else would register on a site like that, right?

# Balloon Fetish
We all have fetishes, I do – I like myself. Every day! But that doesn't matter right now, just thought I'd mention. If you're into balloons, don't worry, you're not alone. There's a crowd of people who need the one thing and one thing only – balloons. This site is meant for your enjoyment.

# BJ the Clown
Now this ain't a porn site, it has nothing to do with the adult scene or porn at all. Yes, I know, it's lame, we all like porn not clowns. This dude just needs to be reported to the proper authorities. He offers his services as a clown in children's birthdays, and he calls himself a BJ – is it maybe a service where there's more included than just pleasure for the kids? I mean maybe it's like pay for 1 but get 2 services. Good idea…I think?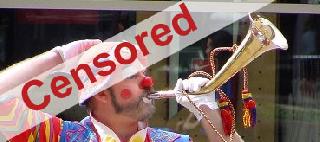 ---
more in Entertainment
The rise and rise of Ellen Page
Ellen Page is without question the woman of the moment in Hollywood right now. With a Best Actress Oscar nomination recently stacked up alongside a list of achievements for her turn in 'Juno', including being named the Breakthrough Actress of the Year at the Hollywood Film Festival, she is, to coin a lovingly overused tinseltown term, 'hot' right now. Piping hot.
Between a Rock and a Heart Place
Screw Geoffrey Chaucer. Not for his poetry, quite honestly, I don't think I've ever read any of it, but because apparently he inadvertently created Valentine's Day. I didn't know this until recently. I just assumed the holiday was the byproduct of greeting card company greed and lack of anything better to do in the month of February, but evidently it's been around for quite some time.
Halle Berry burns at the box office
Buried deep within the embers of grief, a spark of friendship ignites in relationship drama 'Things We Lost in the Fire'. However, while this thoughtful, emotional film delivers some strong performances and appealing cinematography, don't expect a blaze of drama and excitement.
Girls Aloud or Girls Alone?
Despite having fame, wealth, beauty and a hugely successful pop career, the members of Girls Aloud seem to be lacking in one department - a happy and healthy love life.
Great American Dumb Ideas: Elder Blues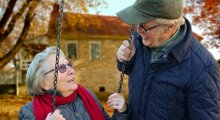 Fads in mental health diagnoses come and go. Something called Existential Neurosis was popular for a while, but seems to have lost some of its gloss in recent years. For a long time now, any high-energy, active child risked being diagnosed—often misdiagnosed—with Attention Deficit Hyperactive Disorder (ADHD).