The Use and Abuse of Television
Without any doubt, watching TV is a good way of getting informed. Watching news gives a good insight into what really is happening in the world at least as long as you are watching a serious news channel and not some low-rate program that only intends to shock or amuse. To many, watching news on TV is also more convenient and enjoyable than reading a newspaper or a magazine.
Most people, however, do not use TV mainly as a means of information. Instead, they want to be entertained. Watching a movie can be a very enjoyable past-time; often you can also learn something from it. Just as reading a novel can give you new ideas, you can also get food for thought from a good movie. Apart from that, it can also be very relaxing to watch a program for the sole purpose of getting distracted from everyday life. By laughing at a comedy or trying to solve the mystery in a detective story, you can forget your worries.
In this way, TV can also be a distraction from loneliness or boredom. A TV voice will fill the room and give you the feeling that you are not alone. TV is also a means of simply passing time, rather than sitting around staring into space.
Now, this is exactly where problems start. Which of those are "healthy" reasons to watch TV? In my opinion, it is entirely wrong to sit in front of a television set all day just in order to pass the time. There are so many better ways to spend your day. I don't think anybody can sit in an armchair watching TV all without eventually losing focus; at some stage, you will inevitably end up just staring at the screen, devoid of any thoughts of your own. The problem with TV in this regard is that your role as a participant is a passive one. You can develop your own thoughts about what is going on, but you are not forced to do so.
There are other aspects which need to be considered. Some people tend to take TV shows at face value and mistake them for being part of reality. I have often heard people supporting strange opinions by saying "I know it is like this, I saw it on TV!" Watching TV in this manner means wasting your intelligence, your time and your life.
Another problem is that watching TV usually implies staying indoors. It is the most horrible waste of a day to sit in a living room with shutters closed while the sun is shining outside. Obviously, sitting down watching TV also means you are not moving. Many people combine watching TV with excessive eating as well. This can lead to serious health problems due to lack of exercise and obesity.
However, the worst of all problems connected with TV is that it kills communication. Many people sit in front of that machine on their own. Even if more people are watching, they usually say little to each other, apart from occasional remarks about what is happening on the screen. I think this is extremely sad. The matter becomes worse when two people are living together and one of them is more interested in the television than in his partner: TV can destroy relationships. Watching it too much is incredibly antisocial.
In conclusion, I would say that watching TV can be a god thing, but you must take good care in order to use it properly. Just like drinking alcohol, watching TV must not be overdone. In my opinion, it is much better to spend your time being active playing sports, meeting friends, going places. As long as you keep doing all this, watching TV can be a pleasant way to spend your time once in a while.
I can do without it.
---
more in Opinion
Jesus Christ's Sand Writing
In John Chapter 8, Christ is presented with a woman caught in adultery by the Pharisees and scribes. They presented her to Christ seeking His judgement upon her, but instead He wrote in the sand and asked one question.
The Age of Discovery - Is It Over?
Life just keeps getting more technical - computers, cell phones, space ships - but do we know what's going on or are these tools as well understood as why a knife cuts?
The Scales of Justice: Weighted With Money Instead of the Truth?
A man has been accused of murder. He has an extensive criminal record and a diagnosis of a potentially dangerous mental condition. He was placed in the neighborhood of the murder, on the night of the murder. He was found with the victims blood on his shirt. And the City of Escondido in California seems to want him found not guilty.
Utah: Charges of Fetal Homocide
On March 11 Utah authorities charged Melissa Ann Rowland with murder in the death of one of her unborn twins. The charges stem from Rowland's refusal to have an emergency Caesarean section, a procedure doctors urged after they detected health problems with her unborn babies.
'Belonging' in the Land Down-Under
After 200 years or so of European settlement in the Land Down-Under many Australians assume that this country, in comparison with others, is one lacking in both culture and history. What many dont realize however is that Australia has claim to a unique culture that precedes the arrival of Captain Cooks First Fleet by 40,000 years and more.
Mud-slinging or Issues?
The election of 2004 is now underway in the United States and the negative ads have already started.
Religion a blessing or a curse?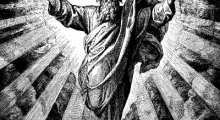 I will always remember something my former religion teacher said: Religion is a human beings yearning to attach to something. But is religion a blessing or a curse? Now that's a question.
Work That Constitution, Baby!
The sudden interest in gay marriage in the U.S. is completely ridiculous and mostly diversionary in nature for President Bush. I understand that to the President and his cronies a happily confused and glaringly stupid voting populace is ideal for reelection and the passage of restrictive laws. But really, do we have to create such turmoil among a group that is finally celebrating SOME acceptance in the Land of the Free? What I propose to do here is offer some solutions to the problem with gays in the U.S. and their nagging, incessant need to celebrate unions with the people they love, provide legal and financial benefits to their spouses, and grant them equal rights and freedoms as guaranteed in the Constitution. The Old Constitution Being an entertainer, Im practically prohibited by law from having problems with gay people. But lets look at some scenarios anyway. If all gay men disappeared, there would be a sudden decrease in movies, plays, circuses, television shows & entertainment agencies for me to enjoy and work within. Id never have any good looking clothes to wear on stage and my hair would always be a disaster. At the absolute least, Id never be able to watch Queer Eye again and that alone would be catastrophic. And who the HELL would they get to be the center square on Hollywood Squares? Take all the lesbians out of the equation and there could be some improvements. Without them wed have no Rosie ODonnell or Ellen DeGeneres on our screens, no K.D. Lang or Melissa Etheridge music and no Xena, Warrior Princess and hot girl-on-girl action in our porno - WAIT! Forget I said anything!
Muslims Killing Muslims
References for this article have been made again and again from the book "Ibn-Khaldoon History". On each page, it describes the killing of Muslims by Muslims.