The Revenge Guy: How To Destroy My Ex-Boyfriends car
I need some ideas of what I can do to destroy my ex's car...It was once my car but I lost my license my car got towed and the only way I could get it out was for me to switch the title into his name and get insurace on it..long story short he ended up pawning my car there was nothing I could due to get it out myself...I recently saw him cruising around in my car...If I can't have it than I would rather it be destroyed before he has it...I need someway that is not obvious that somebody did something it needs to seem like it was something that went wrong with the car...Thanks
Hi Tasha,
Effectively taking down a car is harder that most people think. As well, it's very dangerous. The last thing successful revenge results in is a mutilated or dead person. That being said, this is what you can do:
1. pour some milk onto the floor behind the drivers seat. If needed, just pour it into the window/door joint. Nothing smells worse that dried, sour milk.
2. if you have easy access to the car and can spend a few minutes around it with no one seeing it, you can let the air out of one of the tires. Let the air out of the same tyre every couple of days. He'll eventually figure there's something wrong with the tyre and have to buy a new one.
3. get one of the bumper stickers from The Revenge Store. Always good for revenge.
Best wishes,

RG
---
more in Entertainment
The rise and rise of Ellen Page
Ellen Page is without question the woman of the moment in Hollywood right now. With a Best Actress Oscar nomination recently stacked up alongside a list of achievements for her turn in 'Juno', including being named the Breakthrough Actress of the Year at the Hollywood Film Festival, she is, to coin a lovingly overused tinseltown term, 'hot' right now. Piping hot.
Between a Rock and a Heart Place
Screw Geoffrey Chaucer. Not for his poetry, quite honestly, I don't think I've ever read any of it, but because apparently he inadvertently created Valentine's Day. I didn't know this until recently. I just assumed the holiday was the byproduct of greeting card company greed and lack of anything better to do in the month of February, but evidently it's been around for quite some time.
Halle Berry burns at the box office
Buried deep within the embers of grief, a spark of friendship ignites in relationship drama 'Things We Lost in the Fire'. However, while this thoughtful, emotional film delivers some strong performances and appealing cinematography, don't expect a blaze of drama and excitement.
Girls Aloud or Girls Alone?
Despite having fame, wealth, beauty and a hugely successful pop career, the members of Girls Aloud seem to be lacking in one department - a happy and healthy love life.
Great American Dumb Ideas: Elder Blues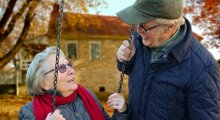 Fads in mental health diagnoses come and go. Something called Existential Neurosis was popular for a while, but seems to have lost some of its gloss in recent years. For a long time now, any high-energy, active child risked being diagnosed—often misdiagnosed—with Attention Deficit Hyperactive Disorder (ADHD).