This article belongs to Shooter's War column.
I turned 34 years old a few hours before I drove down Route Irish from Baghdad International Airport to the Green Zone. After spending my first sober birthday in over 10 years, I was reissued my press credentials for working with coalition forces in Iraq and eagerly awaited getting outside the wire into Iraq's more dangerous places. A Sergeant walked in to the pressroom, where I was waiting. "Does anyone want to go to FOB Kalsu for an Iraqi Police Graduation?"
A free helicopter ride, how could I resist? Forward Operating Base Kalsu stands out in my mind from a previous interview I had with a soldier who was there during the invasion of Iraq. He told me of how they lived in tents and his tent was hit with a mortar. One of his buddies got a testicle blown off. I always think of that soldier who got his balls blown off when I pass thought Kalsu. Colin Powell had a saying when he was Secretary of State about breaking something at a Pottery Barn: You break it, you buy it. He compared invading Iraq to that policy and we broke Iraq. Now, we have dispatched Saddam Hussein and many of those in his former government and are working on that hard sell of giving Iraq back to the Iraqi people. As the United States Congress pushes for a withdrawal of our US troops from Iraq, another class of Iraqi Police wait for the graduation to begin. The police in uniform are from Babil. Those who did not wear their uniforms to graduation are from Karbala.
The police officers graduated without substantial Western Media coverage. Well, I was there along with about 10 Iraqi journalists. Other western media were also invited, but declined. I find it amusing that most journalists are only interested in the problems, not the solutions in Iraq. However, if it bleeds, it leads.

The recruits from Babil and Karbala Provinces attended a ten-day training program at Forward Operating Base (FOB) Kalsu. (Note: these were not new recruits, but experienced police officers.)

They lived at Kalsu during the training and were instructed by US contractors on a Provincial Transition Team (PTT). Members of PTTs are usually former or current US law enforcement officers who come to Iraq to help break the patterns of Saddam's regime with the current Iraqi Security Forces. Col. Michael. X. Garrett, commander of 4th Brigade Combat Team (Airborne), 25th Infantry Division, who has a Bachelor of Science degree in criminal justice from Xavier University, addressed the graduating Iraqi Police Class #07-02. This was the second certification program run at Kalsu and the first incorporating two different provinces in the same course. Col. Garrett had the men from Babil and Karbala stand and face each other. "The men you are standing across from are your brothers," he said. "The security of Iraq rest on your capable and able shoulders." A hand out was given to reporters about the event which read: "The key 'take-aways' of this event are: 1) Graduates of this training program have increased their proficiency as police officers to uphold rule of law in their respective provinces and are a credit to the Iraqi Security Forces. 2) Achievement of Provincial Iraqi Control is progressing quickly and today's graduation aids in reaching that ultimate goal."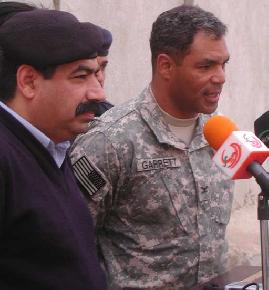 Brig. Gen. Faris and Col. Garr Brigadier Garrett
take questions after the graduation
Prior to the ceremony, I spoke with Garrett and he told me that the certification emphasized crime investigation, self defense, and human rights. Addressing the recruits, Garrett continued, "I ask all of you to continue to commit yourselves and even give your lives for your country. I personally applaud your effects and thank you for what you do everyday." After Garrett's speech, Brigadier General Hamid Jasim Faris spoke to the
Iraqi Police. He is the deputy commander of the Babil Province, and his police were noticeably different from the other cops—they sat in front and wore police uniforms. The Karbala were in civilian clothes, mostly sweat suits with American sports logos on them. They did, however, all wear blue baseball hats that read "Police" in English. The PTT instructors are paid for by the US Army, I was told, and the only costs for this training beyond that was feeding and housing the 50 or so Iraqi Police at Kalsu for 10 days. According to estimates of what would be charged for food, that amounts to approximately $100 per man for the duration. (On a side note, when I ran for mayor of Seattle in 2001, I learned that the Seattle Police Dept. had less than $50 per officer budgeted a year for additional training and certifications.)
Iraq has no Miranda Rights, nor is there a functionally 911 service. The police under Saddam Hussein were even further from what we have come to expect in the Western world. However, these baby steps, ignored by Western media, are the backbone of our exit plan from Iraq. "We are just looking for creative ways to train the Iraqi Police," said Garrett. Indeed, many of the concepts of professionalism, human rights and criminal investigation are completely unknown to the many of the police. These types of courses bring these concepts into focus. "The 50 men you see here today risk their lives to support the population," said Garrett. Their families often become targets of insurgents, in addition to the on the job risks. After the speech, Garrett and Faris answered questions from the reporters. Much of the dialog was in Arabic. One Iraqi reporter asked Garrett if the US would provide more technology and equipment to detect and prevent IED attacks. Garrett responded that the coalition forces armed and equipped the police with vehicles and even fuel since 2004. Now, Garrett said, "The Iraqi Government, the Ministry of the Interior, has sufficient resources to pay and equip it's own forces." One Iraqi woman, who worked as a stringer for the New York Times, asked if the US mission in Iraq was over since they were no longer equipping the Iraqi Police.

"No, it's not over," said Garrett. Other concerns brought up were in regards to the increased insurgent activity in Al Hillah in Babil province. "Because of the security plan in Baghdad,"said Garrett, "terrorists have moved to other provinces." Garrett added that he thought that things were getting better because he saw two major Shia religious holidays involving movements of religious pilgrims in Iraq occur "with not a great loss of life."
Later, waiting to return to Baghdad with the rest of the Iraqi Journalists, I asked them through an interpreter what they thought of the day's events and I also asked again why the police from Karbala did not wear uniforms. All I got on that question was "They were not ready." I attempted to interview the individual members of the force, but they all declined.
[

The Iraqi Police wait for the graduation to begin. The police in uniform are from Babil. Those who did not wear their uniforms to graduation are from Karbala
]
The answer as to what the Iraqi media thought of the graduation was mixed. One journalist, who spoke English, and works for an Arabic TV station in the US, said, "It's bullshit!" He continued to elaborate, saying that while the police in Babil had raised the standards, and transcended Sunni/Shia differences, the Karbala police did not even wear their uniforms to graduation and were still deeply divided by Shia/Sunni differences. He doubted that eating American food and using American toilets for ten days would make any difference at all. Col. Garrett addressed this concern earlier, saying that while he recognized that the war in Iraq would not be over after ten days of training, that by bringing police together from different provinces and giving them this training they were moving things along and one may come along and make a major difference.
Other Iraqi journalists, the majority, said that they felt the day was a success—they said "We made pictures and ate food." All of them seemed to understand the frustration of building the needed Iraqi Security Forces so the US can leave, and they can have a safe, unoccupied country to live in. "It's another day in Iraq," said the Army interpreter.