Lanzarote and the other Canary Islands are described as having the "World's best climate." and that claim is probably true. They do not suffer from any extremes of weather and the winters are like the warmest British or Irish summer days. During the summer, they rarely suffer from the stifling heat, which you can find in the Mediterranean due to there usually being some kind of a breeze.
Summer Weather
From April through to November, Lanzarote is mostly hot and dry. The average high temperature climbs from 24°C in April to a peak of 29°C in August, reducing to 24°C by November. At the beginning and very end of the season night's cool down to around 17°C but the peak months generally stay around 20°C. Luckily, a sea breeze blows freely across the island and the low humidity eases the heat. However, as mentioned, if the sirocco wind is blowing from the east from Africa and the Sahara, temperatures can soar to 40°C and a drought can set in. This is especially true because rainfall is negligible throughout the season though the fringes of the season might see the odd brief downpour. Generally, clear skies are uninterrupted and Lanzarote experiences long hours of sunshine
Winter in Lanzarote
December to March remains warm and mildly cool at night with the average high temperature sitting around 21 degrees for most of the season, creeping up to 23 degrees in March. The evening lows fall to 15 degrees in December and 14 degrees in January and February, rising back up to 15 degrees in March. This means temperatures are never as chilly as elsewhere across Europe. In fact, the daytime temperatures in the low 20's will be preferable to the summer highs for many visitors and the cooler nights can often come as a relief to many. Therefore, holidays in Lanzarote are very popular, with visitors going to the Canary Islands to escape the cold damp stormy conditions we get across other European Countries.
Rainfall does increase in the winter season however heavy downpours are only expected to happen about two to four days a month and they do not usually tend to last very long. These brief bursts of rain leave lots of sunshine hours for visitors to enjoy their holidays with seven hours of sunshine expected every day. The sea temperature drops to its coolest between February and March but do not despair as the sea temperature only drops to 18 degrees and this is still warm enough to head out for a swim in the ocean.
Dust Storms
The dust storms are predominantly controlled by North Africa's weather patterns. When the Sahara desert experiences a heavy rainfall in its short wet season, the dust storms in Lanzarote are far less likely. However, when the opposite occurs and the Sahara misses its yearly rainfall, the dust storms are likely to be far more intense. It is not only the North African rainfall, which controls the dust storms because the trade winds, which are controlled by air pressure over the Azores, also have an impact.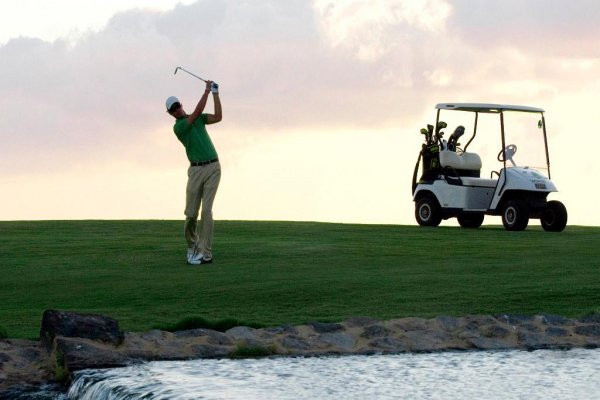 Weather influenced activities
The weather in Lanzarote is stable all year round. Despite this, they do have storms and they do have heatwaves and everything else between. Therefore, it seems sensible to find out what the weather's like in Lanzarote before you leave or book your activity. It is not just the infrequent bad weather that can spoil your holiday either. In the summer months, it is common for the temperature in Lanzarote to rise to extreme highs, increasing the risk of sunburn, sunstroke and dehydration. If you head out on a fishing trip, you will require a hat and a large amount of sun cream to protect your skin and prevent sunburn but finding shade where possible is advised. If you have booked a round of golf, make sure you are prepared for the heat. It is advisable for golfers to wear cool golf clothing such as a light polo shirt, a pair of golf shorts and a hat. It is also beneficial to use your umbrella as shade while out in the open. If you are playing around midday where the temperature is at its highest you should consider hiring a golf buggy, which can conserve your energy and help to keep you out of the sun at times.
Weather and Agriculture on Lanzarote
The growing of any agriculture that has flourished on Lanzarote is an enormous tribute to the inventiveness and determination of the Islanders themselves. As rain is so scarce and underground water facilities so rare, it really does seem like a miracle that any agriculture is able to grow on the island. However, viticulture and agriculture both exist, through the miracle of crops growing and sprouting from the picon, the black volcanic grit found in abundance on the island.
According to the Agricultural Training Board of the Canary Islands, Lanzarote receives less rainfall than parts of the Sahara Desert, with a mere fourteen centimetres of precipitation per year. Lanzarote farmers are still in the process of developing agricultural techniques. Only fifteen years ago the majority of farmers used camels to pull their ploughs but now that figure has dropped to around five percent. In fact, it is probably cheaper to buy a tractor than it is to buy a camel, most of which have to come from Mauritania on the West African coast. The disadvantage of using a tractor is that it tends to squash the picon and can make the farming even more difficult. Camels are now mainly reserved for the tourists except for a few peasant farmers who refuse to give up their old traditional ways.
Onion are by far the Islands main crop with the majority of the crop being exported to mainland Spain although Lanzarote onions do end up on the tables of English, Dutch and German homes. Anyone who has tasted Lanzarote onions will attest to their delicious sweet flavour, reduced harshness and a much-improved onion when compared to their counterparts produced on other Spanish islands. For up to date weather forecasts for your holiday weather visit https://www.netweather.tv.