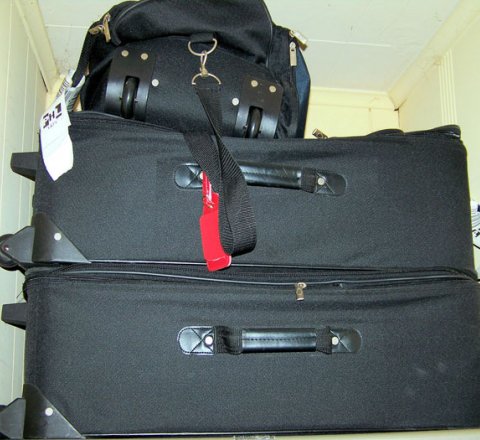 Traveling light gives you a sense of security. You will not need to hand your bag or bags over to someone else for care, thus you are far less likely to lose your belongings to theft or damage or even misrouting. In addition you will also foil anyone who would have otherwise enlisted your unsuspecting-aid as a conveyor of some contraband goods. This makes you attain peace of mind while traveling.
It helps you save money
You will have far less checked baggage charges or fees. You will not have to pay any porters and other such luggage carriers to help you carry and store your stuff. You will be easily able to take public-transportation (just like the flight crews and other airport-personnel do from the airports), instead of using shuttles, limos, and the scam prone taxis, or you can just walk if your hotel is not far. Traveling light also brings you into a more intimate and closes contact with the area and the people that you've come to visit.
Helps for easier mobility
Having less stuff or luggage means you will have better mobility. With no-checked or awkward to manage luggage and bags to limit you in your traveling alternatives, you will be able to cope with any delayed transportation or any missed connections, and you can easily exploit any unexpected opportunities that present themselves. You can even switch to an earlier flight if there is space available, and get to use alternate means of transport like rental cars, trains and others. You don't have to arrive at the airport too early since you have no luggage to check in, and you will be able to leave first, while others wait for their baggage-carousels and customs inspection-queues. You can easily board trams, coaches and trains with alacrity. You will also not feel compelled to book the 1st hotel room you are offered, instead you can comfortably walk down the street/road and check out other hotels if the price of that hotel is unreasonable.
Traveling light will reduce stress
It is a more hassle free-way to get about. You will have much more time since packing your bag will take little or no time at all You will also waste far less energy carrying and hauling luggage and stuff. You will always know what you are carrying, where everything you are carrying is, and that it is sufficient. We have all seen many anxious folks at airports who struggle with a lot of baggage and are always concerned that they might have left something behind or lost track of some of their luggage. Traveling abroad can be particularly-challenging, because it's usually unfamiliar and rather unpredictable.
Traveling light is ecological
All of the fore mentioned benefits of traveling light are concerned with only short term benefits. But traveling light will also yield some long term benefits to our planet Earth. There will be less stuff-to-manufacture, minimal use of auto mobiles and other such equipment to help you move about, less use of fuel for the auto mobiles that you would have used to move you and generally less damage to our mother planet.
The 3 core elements of traveling light:
- Packing in moderation to avoid the folly-of lugging too much stuff.
- Weight reduction by finding travel friendly versions of all the things you need to carry.
- Bag optimization.