This article belongs to Sex sells theme.
Since we're on the middle of a world crisis, and counting the days for the fat man with the red suit to come, seems like selling or buying is the topic that fills our heads and empties our pockets and bank accounts.
But of course, no one wants to talk about something that can't be sold, like John McCain's sense of humour. Instead we will focus on the oldest profitable service since a horny politician invented currency.
Coco de Mer
Several great personalities have came to the conclusion that a man doesn't need huge amounts of money to be happy, but to fulfil his most basic needs and urges. And what could be more basic than the one inside his (or hers for that matter... we shall not be sexist!) pants.
"Sex Sells" is a topic that raises arguments on marketing departments around the world, and brings religious moms out on the street to protest more than Justin Timberlake walking down Central Park does with little girls. We have to admit, a nice looking woman on a tiny bikini sells almost anything. And of course, Matthew McConaughey wearing nothing but shades gave Dolce & Gabbana a huge load of money. Because wives want their husbands to smell like him, and not like Peter Griffin.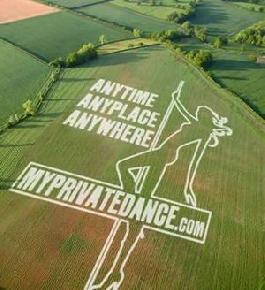 Myprivatedance.com
Big tits sell beer, cigarettes, hamburgers and lawyers... but could sex sell sex? Certainly the world has come a long way since pimps on shiny suits that we saw on 70's movies. Marketing researchers went to night clubs and whorehouses to find more than a good time, and after few lap dances they understood that sex can't sell itself, and of course, they needed to kick it up a little notch with... well, SEX.
I was trying to apply one of Frederick Shelton's advices to pull this one off, and started to google something to rip off and I came across this really brilliant ads that use imagination to sell sex in a sexy way by the use of sex (boy that's a lot of sex!)
"
We have to admit, a nice looking woman on a tiny bikini sells almost anything
The first one is from Coco de Mer, an Erotica Shop. As you can see, a little paint and a little imagination does a lot. Like the cheap bosses say, less is more. Seems like they paid a couple to fool around and painted their hands and feet with white paint. Cool huh? Who said anything about low budget.
The second one is for a private dance service, if you're a business traveller arriving to the UK, and after a long trip you need to take a bath, and don't want to go out to the street to look for a lap dance on the side, you can call this guys and they'll mail you a dancer to go...
The third one is more a reflection to safe sex... not because it's safer it's less sex... if you think you're not going to get it... then you're not getting enough of "it".
Durex Safe sex Ad
Because of my work I've attended many different kind of expositions. One night while I was trying to sleep and there was nothing on the TV, I've figured that maybe a little of 'self abusing' would help and found myself watching Cinemax Prime. Between "G-string Divas" and "Renee and Friends" was this little interlude that showed me that sex is great to sell cars and hamburgers, but it just doesn't cut it when you need to sell sex.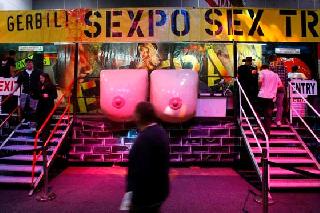 SexPo
You need a whole thousand-acres expo to promote sex. This is SEXPO the biggest exposition related to the industry.
"
Who said that PENISAURUS can't be the next best football mascot.
If good looking man and gorgeous women in tiny dresses can promote cars, why can't they promote adult movies as well. Of course, nice cars attract chicks like magnets, but porn needs a little art to be appealing.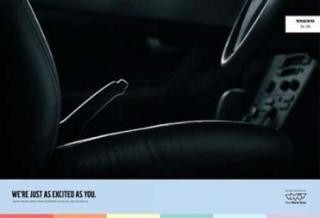 Volvo
Who said that PENISAURUS can't be the next best football mascot.