Apple has increased their revenue for the second consecutive quarter
now. The last quarter their profit was $430 million dollars.
According to Apple, they have increased the sales of Mac as much as 48%
within the past year. Mac Laptops have sold like warm breads (more than
634 000) and numbers are expected to grow also for the next quarter.
They expect the total profit by the end of the year to be about $1.335
billion dollars which means growth of about 68% compared to the last
year.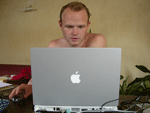 Best year it is for Apple, but that's normal. Doesn't anyone agree? I
didn't used to be much of a Mac fan myself. The first time I used it
was in France and it really took 2 weeks from me to get used to
Mac...and I still didn't feel it's comparable to Windows. That was just
about one and a half year ago. Since then I haven't used Mac myself,
but I have seen many people working with it and also talking about it.
And it's great. All the functions, all the tiny bits of software that
make everything a lot easier for you - photo management, sound,
graphics...whatever more. But the main point for Mac: It IS
trustworthy.
The last time I installed Windows, I had to do it three times before I
actually got it working well. And "well" for windows...well, you know
what it means if you're a windows user. With Mac I have never heard of
silly explanations from computer fixmen. The reasons why someone's Mac
isn't working I mean. But with PC (and windows)...the last time I was
told that "There was a serious problem with your Windows, sir"...and I
asked "What kind of problem?"...the guy bubbled something into his
beard and they answers - "Windows was fucked.". Well, is there anything
else I'd need to say?
So I'm really not surprised to hear about Apple's numbers and I would
expect these numbers to grow at least one more year. Until Apple gets
more and more users and until Mac's have been tested enough to report
hundreds of bugs as well. Well...should this happen at all I mean.
Go Mac!