This little man is being hailed as the next soccer sensation. Jean Carlos Chera plays for Associacao Desportiva Atletica youth team in Brazil. Incredilby, he's only 9 years old, is just four foot six inches tall, and weighs in at only 77 pounds.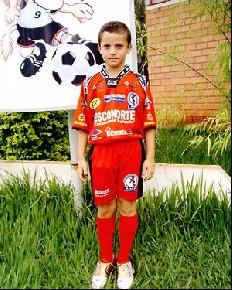 Child football progidies are nothing new. The remarkable thing about Chera is not so much his age, but the manner in which word has spread about his talent. For better or worse, Associacao Desportiva Atletica has invited a media frenzy by posting a video highlight package of the boy wonder on the Internet. This is basically an invitation to scouts from the big European clubs and, eventually, a nice little earner for the club. Already, there are reports of interest from the likes of Manchester United, F.C. Porto, and A.C. Milan.
"Seven or eight European clubs have already contacted us to know more about Jean," team president Adilson Batista Prado said. "They want to know what he is all about, and I tell them he's a phenomenon, probably the best player to come out of Brazil." However, as current rules prevent non-European players from signing on to these teams until they're 18, Batista will have to wait until Chera doubles in age before he cashes in.
Big hype and high hopes! This recalls the case of American forward Freddy Adu. Adu has recently completed his first full season in America's MLS, playing for D.C. United. Quite an achievement for a 15-year old, but Adu has already received criticism for not producing fireworks with every touch. The pressure on young players is immense and no one knows what will happen to Chera (or Adu) in the next nine years. Until then, you can follow the link below to see the Chera highlight video. If you're not suitably impressed, then it's worth remembering that nine-year-old Chera is playing against opponents who are five years his senior.
http://www.bercasio.com/football/jean_carlos.wmv.htm