This article belongs to Heads or Tales column.
Please join me (and tens of Los Angelenos) in saluting the career of boxing great James "Lights Out" Toney.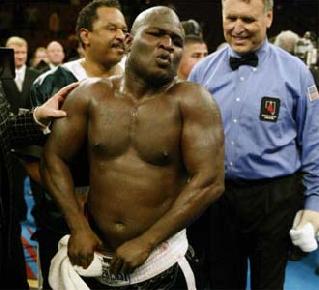 "Oooh, it feels good to be me ..."

With a career record of 70-6-3, Toney has held world titles at middleweight, super-middleweight and cruiserweight, a division in which boxers are much better-dressed and much more catty in their pre-fight smack talk.
Government officials in Los Angeles are calling for residents to join San Franscisco in turning their lights out for an hour later this month to … wait, what? …
Oh, man. It turns out this isn't an effort to honor a boxing legend, it's just another one of those feel-good global warming awareness gigs.
As reported in the Los Angeles Times, on October 20th, "Los Angeles County and city officials are urging people, businesses and government to switch off non-essential lights for one hour next month to save energy."
Personally, I think it's a great idea to turn off the lights for an hour between 8:00 p.m. and 9:00 p.m. in a city known for its gang activity.
What could possibly go wrong?
I believe there was a study done recently that showed over 43% of The Bloods and The Crips believe global warming is a problem. Or, as the survey phrased it, "That sh*t is f*cked up."
Here at The Cheers we're all about the youth of America, so we've compiled a list of the Top Five Gang Tips to Combat Global Warming:
1.) Use a hybrid when doing a drive-by shooting. Statistics show that most people can save over $438 a year by driving a hybrid. This is good news if you've been trying to save money to upgrade from a semi-automatic to a full automatic weapon.
2.) Use double-paned windows and insulation with a value of R-12 or higher in construction of gang headquarters. Eliminating drafts not only helps save money on heating, it results in a better contact high since pot smoke doesn't leave the room due to shoddy construction.
3.) Consider washing gang colors in cold water. Hot water uses up a lot more energy than cold water washing. Plus your blues and reds stay brighter and more vibrant. Savvy gang members know that nothing can kill street cred faster than showing up to an initiation with baggy pants and pink boxers showing because your red do-rag ran in the wash.
4.) Ford and GM are among the biggest contributors to global warming. Steal a car. Explain to the jury that you were doing your part to combat climate change. You're not a felon, you're an environmental hero.
5.) Buy local. Drugs from South America may travel over 15,000 miles to make it to Echo Park in Los Angeles. Every mile those drugs travel generates 3.7 pounds (or some other number you can make up) of carbon emissions. If you must buy your coke from Columbia, consider participating in a carbon offset program to help make your drug transactions carbon neutral.
Together with the gangs of America, we can make a difference.