The Ryder Cup is nearly upon us, with the biennial golf competition between Europe and USA set to commence on September 26 in Scotland, at the historic Gleneagles PGA Centenary Course.
In recent years the Ryder Cup has not been kind to Team USA. The 2012 edition, held in Medinah, Illinois, was a serious low point for the American side. Going into the final day, America led 10-6 and required 4½ points to secure victory while Europe needed an astronomical 8 points from a total of 12 to retain the Ryder Cup. What followed on that final day, was one of the most remarkable comebacks in the 85-year history of the competition. With their backs well and truly up against the wall Europe proceeded to take 8 ½ points to America's 3 ½ points to win 14 ½ - 13 ½ - leaving little wonder as to why the 2012 competition has been widely labelled as the "Miracle at Medinah".
You can expect the USA team to still be smarting from that defeat, and will be meticulously plotting on avenging their calamitous collapse. So, can they do it or will Team Europe make it three consecutive Ryder Cup successes?
In the betting markets, Betfair have Team Europe at a price of 8/13 to retain their crown, whilst the tourists are at 7/4 to usurp their cousins from over the pond. Now, odds are a good barometer but they cannot be relied on too heavy; in 2012 going into the final day America were 1/9 red hot favourites whilst Europe were out at 8's - but we all know what happened there.   
So let us partake in some analysis and evaluation to come to our prediction.
Teams
Team Europe: Rory McIlroy, Henrik Stenson, Sergio Garcia, Victor Dubuisson, Jamie Donaldson, Justin Rose, Martin Kaymer, Thomas Bjorn, Graeme McDowell, Stephen Gallagher, Ian Poulter, Lee Westwood.
Team USA: Bubba Watson, Rickie Fowler, Jim Furyk, Jimmy Walker, Phil Mickelson, Matt Kuchar, Jordan Spieth, Patrick Reed, Zach Johnson, Keegan Bradley, Webb Simpson, Hunter Mahan.
Before analyse the players in greater detail, let us first look at some of the statistics.
Both sides are featuring three debutants, as Stephen Gallagher, Jamie Donaldson and Victor Dubuisson make their Ryder Cup bow for Team Europe, while America hand debuts to Jordan Spieth, Jimmy Walker and Patrick Reed.
In overall player appearances, Europe lead the way with 31 to America's 29. Europe's most experienced players are Lee Westwood and Sergio Garcia, who will be making their 9th and 7th appearance respectively - as for the Americans, Phil Mickelson will be playing in his 10th competition and Jim Furyk in his 9th.
Individual win percentages favour Europe when looking at players judged have to have played at two Ryder Cups - with Ian Poulter leading the way with 80% after four outings. His friend Justin Rose has a solid 66.67% from two Cups, while Garcia has a 64.29% win rate. By contrast, Zach Johnson and Matt Kuchar with 59.09% and 57.14% respectively, are the best of the Americans. Statistically you would say that Europe have the advantage.
In regards to the actual teams, it is a very interesting paradox. Europe - with Rory McIlroy, Henrik Stenson, Garcia and Rose - have four of the top-five players in the world right now, but there is a large gulf between these four and the rest of the team. That particular gulf is filled by American players, so it should be tight – especially when factoring each team's mean ranking. Europe's is 19.25, while America's is only marginally better at 16.33.
McIlroy is in the form of his life this season as he became the first man since Padraig Harrington, 2008, to win back-to-back Majors. Garcia and Rose are both playing well also, and are solid, reliable match play golfers. Poulter, statistically, is the seventh best Ryder Cup player of all time, while Gallagher - another wildcard pick - is a brilliant links golf player, so Gleneagles should play straight into his hands. Meanwhile, debutant Dubuisson came second in the 2014 WBG-Accenture Match Play Championship to Jason Day earlier this year. Europe's side may lack the ranking points of the USA, but it compensates by having fantastic match play golfers.

Ian Poulter by Keith Ellison
Bubba Watson is America's highest ranked player, but his somewhat errant drive could prove very problematic on the narrow fairways necessitated by links golf. His best position of T23 at The Open goes someway to proving this. Instead, America will look to the old boys in Furyk and Mickelson; both are canny players on links courses and have the mental strength to avoid any shaky performances. Rickie Fowler finished second at this year's Open and, he too has the ability to negotiate the narrow fairways that await. What Team Europe will be worrying about most in regards to the 25-year-old though, is that Fowler has posted three top-five finishes across the major championships this year and heads into the Ryder Cup boasting a ton of consistency.
Judging the teams from an overall perspective, you have to say that it is advantage Europe going into Gleneagles.
Captains
Europe: Paul McGinley
USA: Tom Watson
Europe have won five of the last six Ryder Cups, so there is a considerable amount of pressure on Paul McGinley's shoulders. As a player, McGinley managed just four European Tour wins and never placed higher than 6th in a Major. That said however, the Dublin-born golfer has tasted a lot of success at the Ryder Cup – most notably sinking a 10-foot putt in 2002 to give Europe the win. McGinley was also a member of the victorious 2004 and 2006 sides, while he has also served as vice-captain in the triumphant 2010 and 2012 sides - so it was only natural that he was finally selected as Europe's captain.
In Tom Watson, America have won of the greatest players to ever grace the game - 39 PGA Tour wins and eight Majors really do put the 65-year-old in the upper echelons of golfing brilliance. As a player he played in four Ryder Cups, winning three and amassing a win percentage of 70% during his presence in the side. This will not be Watson's first time captaining his country - having previously had the honour in 1993. On that occasion, at the Belfry, Birmingham, Watson captained his side to a 15-13 win, in has since proved to be America's last success away from home – although that could all change later this month.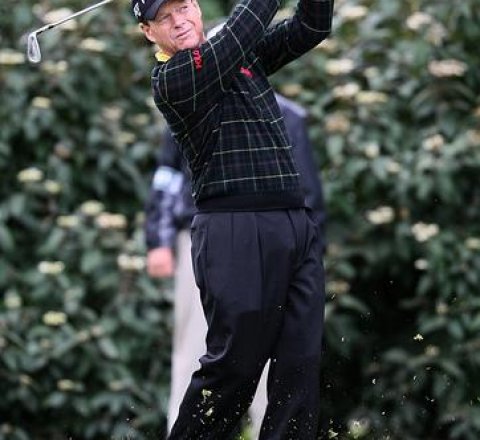 Tom Watson by Keith Allison
When looking at the captains, you have to say that America hold a distinct advantage. Not only is Watson one of the greatest golfers of all time, but he has also proven that he is a very able captain. His assignment in 1993 proved a masterstroke and if he can emulate that some 21 years later, then America have as good a chance as any.
McGinley is both a well-respected and well-liked figure in the world of golf, but that does not mean he is automatically a proven captain. Nick Faldo is Britain's greatest player, yet he proved himself to be hopelessly inadequate in the role of captain in 2008 and McGinley will be wary not to fall into the same trap. An apt tactician does not need to be liked he just needs to be right; whether McGinley can achieve that remains to be seen.
Having a savvy captain is imperative and it is in this domain that America have the advantage. If Watson gets his selections on the money – and he has done in the past - then America can claim a much needed victory away from home.
Conclusion
Europe have the better side but America have the better captain, which really does make for interesting reading. However, home soil should hold the key to European success. Their players are far better suited to the course than the Americans and that should be the deciding factor.
McGinley and his European side will make it six Ryder Cups from seven at the end of September.