Ronaldo and Bebeto have reunited but not on the football field and in a way which took Ronaldo by surprise.
The pair who played together for Brazil, were opposing each other this time, playing poker as part of a PokerStars event to promote the game in Brazil.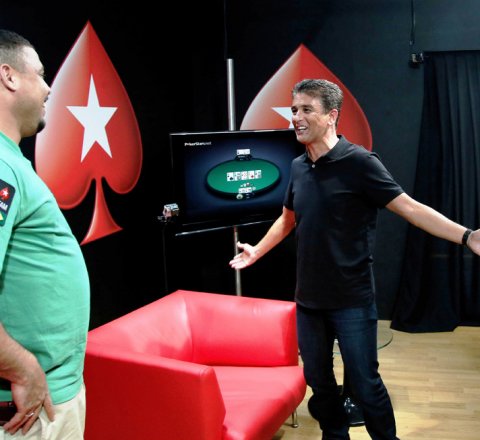 The name Ronaldo once synonymous with football, is now attracting more people to the online poker table. His sports agency, which he formed after retiring from the game in 2011, has led the way, signing professional player Andre Akkari, while Ronaldo himself has become as absorbed in the intricacies of online poker, as he once did with professional football.
He has never really been out of the limelight since calling time on his football career. Capped 98 times by his country he scored 62 goals for Brazil, making him the country's second highest scorer. However, since that time he has become one of a growing number of sports stars, past and present, who are keen to try their hand at online poker.
Others include Rafael Nadal, the tennis star who is preparing for Wimbledon having won a record ninth French Open. The Spaniard became involved with PokerStars when he was injured in 2012 and took some time away from tennis to recuperate. He soon learnt everything about his new hobby and, the same will to win, apparent on the tennis court, is also there when playing poker.
Another household name, certainly in Brazil and to those with an interest in football is Ronaldo's former team mate Bebeto, who played 75 times for his country, scoring 39 international goals. He is now a politician entering the Legislative Assembly of Rio de Janeiro, representing the Democratic Labour Party.
However, he took time off from politics to join his former Brazilian team mate after hearing of Ronaldo's great interest in the game and how, since retiring from football, he has become more involved. So, the two played some hands of Texas hold'em together, although Ronaldo didn't know who his mystery opponent was.
With online poker, you are never quite sure who you are playing. So, using this fact, PokerStars arranged an event in Sao Paolo where members of the public were invited into a special booth to play a few hands of heads-up hold'em against a mystery guest with the two players separated by a curtain.
When the curtain was thrown open, the players were amazed to find they had been playing against Ronaldo, who was happy to chat with them, pose for photographs and sign footballs. However, later on in the day, it was Ronaldo himself who was duped. In a double-bluff, he assumed his final opponent was a member of the public but, when the curtain was opened, he realised he had been playing against his old friend Bebeto!
Once he got over the shock, the two reminisced about their time playing together for the national side and grabbed a ball to show off their football skills. Ronaldo revealed at the event that he plays poker almost daily and has travelled the world with the game, taking part in tournaments worldwide.