Amidst all the 'know what I means' and 'ya'knows' it's sometimes painfully hard to understand what sportspeople are trying to say. Yes, when it comes to philosophers you don't find too many philosophising on the sports field. They're often seen as inarticulate and when it comes to telling us their innermost thoughts, well it's probably better to say nothing at all. Even so, to reach the top in any profession requires hard work, guts, and dedication; you don't get anywhere without knowing what you are talking about and sportspeople aren't any different. Some of them are even very good at it. So, just for luck, here are our 13 top inspirational sports quotes of all time and we think you'll agree that these sports icons really know what they're talking about.
1. Vince Lombardi
"Show me a good loser, and I'll show you a loser."
Vincent Thomas 'Vince' Lombardi (June 11, 1913 – September 3, 1970) was well known for his straight talking approach to American football. He's best known as the head coach of the Green Bay Packers during the 1960s, where he led the team to three straight and five total league championships in just seven years.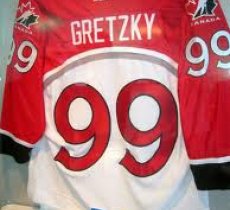 2. Wayne Gretzky
"You miss 100 percent of the shots you don't take."



There's no doubting that Wayne Douglas Gretzky, (born January 26, 1961) was nicknamed 'The Great One' for a reason. The Canadian professional ice hockey player played 20 seasons in the National Hockey League and is the leading point-scorer in NHL history and the only NHL player to total over 200 points in a single season - four times!


3. Mark Spitz
"If you fail to prepare, you're prepared to fail."

For American Olympic swimmer, Mark Andrew Spitz (born February 10, 1950), failure was not an option. He won seven gold medals at the 1972 Summer Olympics and set new world records in all seven events in which he competed; a record that still stands. Between 1968 and 1972, Spitz won nine Olympic golds plus silver and bronze, five Pan American golds and set 35 new world records!



4. Mario Andretti
"If you have everything under control, you're not moving fast enough."
America's very own Sterling Moss, Mario Gabriele Andretti (born February 28, 1940) is the most successful American in the history of motor racing. He's one of only two drivers to win races in Formula One, IndyCar, World Sportscar Championship and NASCAR. Andretti won the 1978 Formula One World Championship and is the only driver ever to win the Indianapolis 500 (1969), Daytona 500 (1967) and the Formula One World Championship triple.


5. Jack Dempsey
"A champion is someone who gets up when he can't."



"The Manassa Mauler" aka William Harrison "Jack" Dempsey (June 24, 1895 – May 31, 1983) was one American boxer who couldn't be kept down. He held the World Heavyweight Championship from 1919 to 1926 and his aggressive style and incredible punching power made him one of the most remembered boxers in history. Voted the greatest fighter of the past 50 years, Dempsey became the first boxer to draw a million dollar gate.


6. Ginger McCain
"They say I'm a one-horse trainer but didn't I make a good job of it?"
Donald 'Ginger' McCain (21 September 1930 – 19 September 2011) may well have been seen as a one horse trainer, but considering that that horse was the legendary 'Red Rum' it didn't really matter. McCain trained the winner of the world's greatest steeplechase - The Grand National - four times - three times in the 1970s with Red Rum and then a fourth time in 2004 with Amberleigh House. See the horse racing results today to figure out who the next four-time champion of The Grand National might be.


7. Emil Zatopek
"An athlete cannot run with money in his pockets. He must run with hope in his heart and dreams in his head."
No wonder legendary runner Emil Zátopek (19 September 1922 – 22 November 2000) was nicknamed the 'Czech Locomotive'.  He won gold in the 5,000 and 10,000 metre runs at the 1952 Summer Olympics in Helsinki and then took a last minute decision to run the first marathon of his life and made gold again! Zátopek was the first athlete to break the 29-minute barrier in the 10 km run and is widely considered to be the greatest runner of the 20th century.


8. Billie Jean King
"Champions keep playing until they get it right."
Billie Jean King (born November 22, 1943) is known for speaking out almost as much as she's known for playing tennis. An advocate for sexual equality, she won 39 Grand Slam titles, including 12 singles, 16 women's doubles, and 11 mixed doubles.


9. Arnold Palmer
"Always make a total effort, even when the odds are against you."
Known as 'The King' Arnold Daniel Palmer (born September 10, 1929) is generally regarded as one of the greatest players in the history of men's professional golf.  His sporting career began back in 1955 and he became the first superstar of the sport's television age. Palmer is one of 'The Big Three', along with Jack Nicklaus and Gary Player, who are widely credited with popularising golf around the world.


10. Muhammad Ali
"I hated every minute of training, but I said, "Don't quit. Suffer now and live the rest of your life as a champion."

Muhammad Ali (born Cassius Marcellus Clay, Jr.; January 17, 1942) is the stuff that legends are made of. An American professional boxer, he's considered by many as the greatest heavyweight in boxing history. A controversial figure in his early career, today Ali is widely regarded as much for his beliefs - religious freedom, honesty and racial equality - as for the skills he displayed in the ring


11. Pele
 "The more difficult the victory, the greater the happiness in winning."
Edson Arantes do Nascimento, better known simply as Pelé, is generally considered to be the best footballer of all time. In total Pelé scored 1281 goals in 1363 games, the most career goals scored in football. During his playing days Pelé was the best paid athlete in the world.


12. Bill Shankly
"If you are first you are first. If you are second, you are nothing." 

William 'Bill' Shankly OBE (2 September 1913 – 29 September 1981) was one of football's all time great managers. A former Scottish footballer, Shankly took charge of Liverpool when they were in the Second Division and went on to rebuild the team into one of the great English football teams. Well known for his wit and humour, Shankly once said: "Some people believe football is a matter of life and death, I am very disappointed with that attitude. I can assure you it is much, much more important than that."


13. Arnold Schwarzenegger
"The mind is the limit. As long as the mind can envision the fact that you can do something, you can do it, as long as you really believe 100 percent."

Body building champion Arnold Schwarzenegger (born July 30, 1947) won Mr Universe aged 20 and went on to win the Mr Olympia contest seven times. Not only that, but he believed so much that "you can do it" that he went on to become a major action-hero movie star in films like 'The Terminator' (1984) and 'Kindergarten Cop' (1990). Still not ceasing to believe, Arnie became Governor of California in 2003 earning him the title of "The Governator" and proving that there really is no limit to what the mind can do.