Little Fish, Big Fish…
Rated M 15+

Directed by: Rowan Woods

Written by: Jaqueline Perske
Cast: Cate Blanchett, Hugo Weaving, Lisa McCune, Martin Henderson,

Noni Hazelhurst, Dustin Nguyen, Susie Porter
Cate is
a suburban hero, Hugo a fallen hero in this gritty Aussie drama.
I wish there was a
word in the English language that would accurately describe the performances in
Little Fish.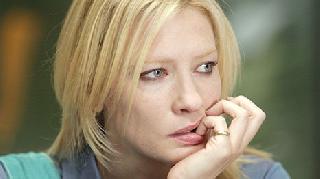 The film itself
plods along at a frustrating pace, but no matter how confusing and slow it
seems, Little Fish is worth watching for nothing else than the astounding
performances by some of Australia's biggest fish and the best cast possibly
ever assembled in Australia.
The storyline is
not an original one: drugs, addiction, relationship tensions and criminal
dealings plague the central character and we are taken on an emotional journey
while she faces the past in order to move on.
Little Fish, the
second feature from award-winning Australian director Rowan Woods, begins with
Tracey Heart (Cate Blanchett) being persuaded by her friend to go to a school
reunion. Tracey is reluctant because she "doesn't go out much anymore" and so
the first of many seeds of mystery are sown.
The
first 20
minutes of the film is full of questions as relationships,
characters and associated conflicts are thrown into the mix, and
all we know is that these people shared something major together. That
'something' comes to light at the point when you are finally so
frustrated
you want to rewind and watch it again in slow-mo.
28 year-old Tracey
is reformed from her previous life but still under the watchful eye of her
mother Janelle (Noni Hazelhurst).
Tracey is a woman
in pursuit of a humble dream: co-owning the video shop she has worked in for
four years. Faced with a tight deadline to come up with the money, Tracey is
frustrated with her past and the way it's holding her back from raising capital
for the venture.
However, it could
just be her past that makes the dream become reality.


Temptation to
revert to her old ways constantly surrounds Tracey in the form of long-time
family friend Lionel Dawson (Hugo Weaving), her wannabe criminal brother, Ray
(Martin Henderson) and the unexpected return of ex-boyfriend Johnny (Dustin
Nguyen).
The men in Tracey's
life are a reminder of who she used to be. Drug-addict Lionel in particular
seems to be the ever-present force that reminds her of the struggle to
pull herself out, and a return to that addictive lifestyle, no matter how
momentary, wouldn't be worth it.
Despite their
obvious love for her, the 3 men dangle temptation without too much thought of
how Tracey might feel or what is best for her. At the point of Tracey's utter
frustration with life it seems she will give in.
A plan to help her
with the goal of video shop ownership is concocted by Ray and Johnny. However,
it means a trip back to the old days for Tracey, by raising her much needed
capital using criminal means. The plan backfires with consequences that are
both tragic and a bittersweet blessing for Tracey and her mother.
Like I said before
I wish there was a single word in the English language that would do the
performances in this film absolute justice. Flawless, heart-breaking, amazing,
outstanding…..the list goes on. Rowan Woods credits it to "good actors", but
there is no denying his directorial brilliance. Especially if you've seen his
first feature film, The Boys, which was nominated for 9 AFI (Australian Film
Industry) awards and won two for best director in 1999.
Woods says he
needed Cate in order to secure funding for Little Fish and there is no doubt
she is a very talented actor, but Hugo Weaving as Lionel Dawson does threaten to
steal the show from the "major star".
Weaving's portrayal
of a desperate, lonely ex-footy hero is one of those things that really get
under your skin. Lionel's vulnerability and emotion is so raw, at times it is
hard to watch. The memory of this sad character lingers long after the credits
roll.
Cate Blanchett
embodies "suburban hero" Tracey Heart perfectly. Tracey is faced with decisions
that will define the path her life takes, test relationships with those she
loves and push the boundaries of her own conscience. She is in that
frustrating, lonely and tiresome place called limbo, between the old and the
new, the past and the present. Blanchett plays the mysterious "ice queen with
a big heart" so well. When the most significant parts of her past come to
light, you get the feeling there is a whole lot more there. There is such depth
of character when stripped of all glamour that you would be forgiven for
forgetting you are watching one of "Hollywood's" brightest stars.
There is no
Hollywood in Little Fish, and with a stellar Aussie and New Zealand cast, it is
the lack of glamour that shows the true talent we have here and is the real
beauty of Little Fish.