It was Bud's last mission. And even though he had passed away some time ago, this was one World War Two operation that would be completed, come Hell or high water. Because that's what Bud faced. Hell and high water! Bud had one task left to complete, and it was as if his old ship was waiting patiently for him to come back home.
Coe Norvelle Applegate, his friends called him "Bud" was a country boy born hundreds of miles from any ocean. His hometown was Hicksville, Ohio, and that's no joke. Bud enlisted in the Navy, and graduated from basic training at the Great Lakes Naval Training Center just in time to be assigned to the launching a new ship, a Yorktown class aircraft carrier. His first duty post was as a signalman aboard
The USS Hornet
. (His job was called skivvy waver.) CV-8 was the seventh ship honored to carry that historic name. It was just a few months before the Japanese attack on Pearl Harbor. Bud had a great sense of timing his whole life. So much so, the Hornet was away at sea that awful Sunday morning. Some, including me, credit Bud's timing. Draw your own conclusions.
Jimmy Doolittle's famous and daring raid departed from Bud's home on the oceans, the Hornet, and bombed Tokyo. I'm sure Bud felt the heaviness of the moment and cheered with the rest of the crew at the risky take off. It seemed lately the American Navy's morale had been at low ebb, but with the efforts of the determined crews of those B-25's and the men of the Hornet, morale was rebounding upward, big time.
In 1942, at the sea battle of Santa Cruz, The Hornet did not survive, but Bud did! With hundreds of his crewmates, he was ordered to abandon ship, and went into the oil fed, fiery waters. CV-8 went down to Davy Jones' locker. Most of the crew was rescued, and Bud was taken aboard the hospital ship USS Solace for treatment of his wounds and burns. Survivors were taken to Balboa Naval Hospital in San Diego to recover, and live to fight again.
In 1943, when CV-12 the (new) Hornet, an Essex class aircraft carrier was launched, Bud reported aboard to take the fight directly to the Japanese Navy again. His MOS this time was Radioman 2nd class. Despite the fact the new Hornet was damaged heavily again, this time in a 1945 typhoon, CV-12 and Bud survived. This was either Bud's great timing or divine providence.
Transported again to Balboa Naval Hospital, Bud would never again leave America's west coast. He later married the lovely Rita and settled in to raise their daughter, Denise. Bud and Rita became champion rose growers and were pleased to receive countless awards and trophies. There's even an exquisite yellow rose named the "Rita Applegate." It's a magnificent beauty, only surpassed by Rita herself.
At, 79, Bud's health began to fail. He never spoke to his family much about his undying love for the USS Hornet. But, the small tears in his eyes when he thought of his shipmates and beloved Hornet said it all. When he at last fell victim to his war wounds in 2003, Bud was interred with appropriate honors in Fort Rosecrans Naval Cemetery in San Diego. The lovely Rita, who really did not want to stay on this earth without her Bud, was placed at his side with a Marine Honors salute and Taps, a couple of years later.
Bud's last wish (and Rita's) was to rejoin his shipmates aboard CVS-12. There was just one last mission to complete. His only child, Denise, requested permission to come aboard the Hornet and donate Bud's medals, manuals, service pictures, and his Mother's war scrapbook, to its wonderful museum.
The USS Hornet's last heroes are the volunteer and historical staff of this incredible floating memorial. The Hornet is dockside at Alameda Harbor, near San Francisco. These volunteers and that historical staff work constantly to refit CVS-12 as it might have been in World War Two. One of these heroes is Keith Hedley, a retired Navy man himself. Mr. Hedley happily welcomed Bud and Denise aboard. He personally toured Denise to all of Bud's assigned wartime posts. I present the photo of Bud and Denise in the main radio room. May America's children never forget the heroes from The Hornet, both past and present. Their sacrifices should always be remembered!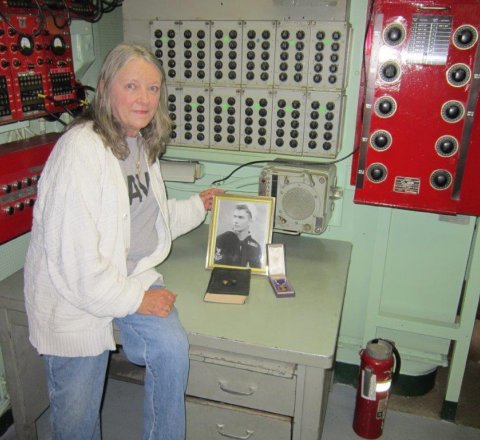 I know it sounds crazy but Bud spoke to me before his daughter disembarked the Hornet. Bud simply said: "Thanks! Take care of Denise!" It wasn't a lot, but it said everything necessary. Like many of our servicemen, Bud wouldn't talk much about World War Two. But he did want to be aboard the Hornet one more time. "Mission Accomplished!" is probably the highest praise that can be given by those who served and saved America in the time of its greatest need. Denise is pleased, I'm pleased, and it appears as if Bud was happy. God rest his soul! God rest the souls of all who served.
My personal heroes include Superman, JFK, and Hank Aaron. I'm now proud to include one Keith Hedley, US Navy Ret. and Director of Membership and Donations at the Hornet CVS-12 Museum. With his expertise, compassion, and love, Bud's last mission is finally finished. I'll never forget you Keith, or The Hornet. Neither will Denise and Rita.
2nd Class Petty Officer, Radioman Coe Norvelle "Bud" Applegate, may you and Rita rest in peace with your beloved crewmates and ship. I pray all Americans will never, ever forget your sacrifices in the line of duty.
Visit the USS Hornet Museum and Memorial in Alameda, CA.
Bud and Keith will be happy to welcome you aboard!