Part I of my adventures.


"Till min Vn

Jag vandar till stranden-satter mig ner

Mot snoskldda toppar et lyster jag ser

Sidenskimmer-som smeket fjallen.

P kvllenshimmeln ser jag ett rdlila band

som bryts mot hstens frger i brand,

Djupnande frger i kvallen.

I det sagolikt vackra-jag ser upp

kommer tanker i stillhetens stund till mig d

Idel fragor - varfr r det just s.

Varfr mste man Skiljas frn en vn?

Frn den vn som fngat ens tanker.

Som skapat en djupare knsla- som som man bundits av.

Mts vi bara pa en anhalt i livet

Har detta mtet en djupare mening?

Varfr mttes just du och Jag?

Vad gjrde cart mte annarlunda?

Var vi rliga mot varandra eller glmde vi pa det kta.

Utan att vga visa det.

Hur knde vi avskedsgonblicket?

Vor den stunden kta i knslan?

Fastn vi intet sa - tror jag det var s.

Om vi ters mts - kommer knslan att varar

lika som vid vrt farvl?

Om det r s - varfr mots vi igen?

Vem styr vra liv? - vi mste ju ter skiljas

Varfr blev det just Du - den vn jag mste skiljas ifrn.

Dikt av Fiskesamen Hjalmer berg frn Bjorkudden vid sjn Langas.
"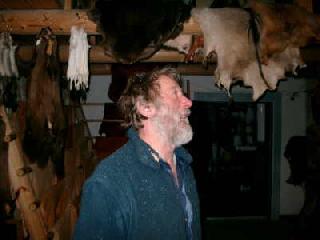 If
you are in Jokkmokk, then you have passed the Arctic Circle which
Crosses Highway 97 as well as Highway 45. North of the Arctic Circle
one can see the midnight sun during the summer and midday darkness
during the winter.
Jokkmokk is a Smi word. Originally, it was
the name of a group of The Forest Smi who had their winter settlement
near the Talvatis Lake. Jokkmokk means a bend in the stream.
The
Smi are a people who live in what is now four countries: Sweden,
Norway, Finland and Russia. The area in which the Smi live is what they
call Spmi. They have their own flag, national holiday and national
song.. There are approximately 20,000 Smi in Sweden. About 750 of them
live in the district of Jokkmokk.
The town of Jokkmokk dates
from the beginning of the 17th century when King Charles IX of Sweden
decided to create churches and marketplaces in the north. His goal was
to extend the kingdom to the north, and control the trade in Lapland
and in this way impose taxes to help finance his wars. This was the
origin of the Jokkmokk market which was held for the first time in
1605. Not until the 1960's these Samis where allowed to live in the
center of Jokkmokk. Forty years later they are the biggest exporters of
Jokkmokk. Their winter market in February will be 400 years old this
year.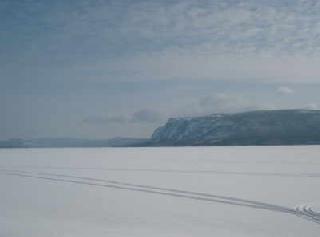 In
the late 19th century, the population of Jokkmokk consisting mainly of
Smi, changed. The arrival of settlers and hydroelectric power builders
made Jokkmokk a important factor. The District of Jokkmokk is on the
Arctic Circle and is Swedens next largest district in size. The total
surface is 19474 km.
In other words, 2/3 the size of the Netherlands, or about ten times larger than Luxembourg.
When
I started writing this article I came out with the even number of 46
pages. Thats half a book so I had to shorten it. How to do this and
still be just? I am forced to feed you web pages, of the separate
places I visited. There are all kinds of unique sights and things worth
doing in the district, and the landscape varies so immensely according
to the time of year that you will have to come back!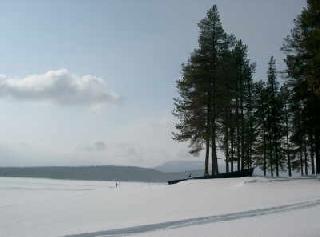 www.padjelanta.com
www.samelandresor.se
www.thunborgviltaffar.se
www.porjus.se
www.arrenjarka.com
www.jokkmokkstenn.com
www.arctic-color.com
www.ajtte.com
www.fjallmistra.slu.se
www.positionjokkmokk.se
www.fiskegruppen.com
www.theyr.net
www.porjus.se
www.thunborgviltaffar.se
SIGHTSEEING IN JOKKMOKK
No
matter if you want to visit the fjlls or the center of Jokkmokk, your
first stop must be Ajtte. It is a five minute walk directly from the
tourist office. Which should be your second stop after Ajtte, unless
you have not had accomidations yet. Begin your tour visiting jtte,
Swedish Mountain and Smi Museum. Discover the Smi culture and the
mountain area in the beautiful and exciting exhibitions. The museum
shop sells handicrafts, books and music. It is appropriate for children
and accessible for disabled persons. There is Smi specialties at jtte's
own restaurant that one should try, and it is inexpensive. Open year
round (closed Saturdays from October-April).
THE OLD PHARMACY
During
the summer there is an art and handicraft exhibition and sale. Winter
time it is closed unless there is a special occasion. Like the magic
carpet ride or the winter market , the next "Vintermarknad" is 2005 2-5
February.
LARS PIRAK
Visit Lars Pirak and enjoy his Smi
handicraft. Lars was one of the first to renew traditional Smi
handicraft. Wood and antler carvings. Oil paintings and watercolors.
Tel. (0046)971-106 32. He does not understand English, and a translater
is recommended.
EDVIN NILSSON
Edvin used to be
park-keeper in the Sarek National Park. Today he is known as a nature
photographer, film-maker and writer. His photographs are on exhibit
here and his books, posters and postcards are on sale. Edvin
understands English, however a translater is recommended. Tel.
(0046)971-557 65. Open in the summertime and other times by arrangement.
JOKKMOKKS STENCENTER
Shop - Workshop Exhibition
Jokkmokks
Stencenter is located in town, on the edge of Talvatis Lake, beside the
Homestead Museum and the Alpine Garden. There is a big selection of
handicraft, exclusive silver jewelry, decorative items and household
items all made of stone from the local area. www.polcirkelsten.com It
is open all year round. Tel: (0046)971-122 35
JOKKMOKKS ALPINE GARDEN
This
part of jtte was inaugurated June 18th 1995. The garden is situated by
the rippling Kvarnbcken stream, a five-minute walk from the museum.
This is a perfect place for those who want to learn about the flora of
the mountain regions or just take a relaxing stroll through the garden
paths. There is a historic research cabin and also an information
center where Edvin Nilssons slides are shown. Accessible for disabled
persons. Tel. (0046)971-101 00. Open during the summer.
JOKKMOKKS TENN
Handicraft
in the Smi tradition, this family enterprise is a spot where if you are
interested you will be shown the different stages in manufacturing
items in pewter. Workshop and shop. If you can, try to get a tour
through their facilities. You will be amazed by the love and dedication
invested in their work. Tel. (0046)971-554 20. Homepage:
www.jokmokkstenn.com Open year round.
www.polcirkelsten.com
Jokkmokks Stencenter for rocks and minerals with shop, workshop and
Mineral exhibition. Just a 5 minutes walk from the tourist office.
Viddernas Hus
Their
slogan is "Take care of yourself / You are important/ You are worth the
best/ Stillness /Warmth/ Consideration/ is what you get...and the
creativity starts pouring out of you which it will then there is plenty
of handicraft to learn !!"
Jokkmokk has a lot to offer outside
of the center, and to appreciate it you have to prepared to spent time.
This is exactly what the lady at the tourist office told me with a
sparkle in her eye and continued to mention names that sounded alien to
me.
Sarek, Padjelanta, Stora Sjfallet and Muddus belong to the
Laponia area, which in December 1996 UNESCO nominated as one of the
Earths World Heritage sites. Laponia was chosen as a combined nature
and cultural heritage site. Once you go there you will find the
landscape is so wonderful so much an example of perfection of this
world that it could come out of ones dreams. It is a paradise of wild
meats, fish and berries. The center of Jokkmokk is easy to reach on
daily busses traveling to the airports of Lule and Gllivare, as well as
to the train stations of Murjek, Gllivare and Boden. During the summer
the inland train line also operates.
SIGHTSEEING NORTH OF JOKKMOKK
The
work of art Uvssat davs the doors to the west Akkats Powerstation on
the left to your way to Porjus - was painted by Bengt Lingstrm and Lars
Pirak as well as Lars J. Nutti. It is decorated with only Sami symbols.
At the right side of the station you will find the Seit. The Seit...
animals as well as humans had a double soul according to Sami belief,
the Seit was the advisor consulting between the two. Territorial claims
have been important in all cultures, and among the Samis a Seit was a
protector and advisor for rich hunting and fishing grounds. You will
also find the Akks, mostly important to women in the Sami religion. The
Akks were Maadteraakha and her three daughters, Sarakha, Oksakha and
Joeksakha. Sarakha was worshiped by both males and females alike, since
her posistion was of utter importance to both genders. She lived
beneath the seat for the fire, protected and guarded the birth of
newborns of humans and animals, and the protector of life itself. Other
than that you will find Maskulin gods.
Lars Piraks famouse
painting Raido Manna Alas is towards the right of the dam. The Goabdes,
the dreamdrum, is also displayed. This one cant be burned by the church
since it is protected by water and its Seit.
I'll continue with Part II next week!