This article belongs to Coffee and Cafe Culture; Political opinions column.
Coffee culture in America has taken a rather European turn in the past decade, due partly to the proliferation of independent cafés and Starbucks alike. The café provides a public yet personal neutral ground upon which two parties may meet to discuss topics that are either taboo in certain locations or typically reserved for one venue only.
The café has played its own part in history, right along with the pub. It is a place that readily sells coffee and espresso-based beverages. These drinks, which make café patrons look and feel more elegant and sophisticated, enhance the customers' self-confidence. The caffeine, the drug, makes the mind more alert and able to focus.
Typically, two individuals meeting at a café are there for a purpose, even just to socialize, and from that meeting, ideas often arise. Perhaps the pair are meeting to discuss a church fundraiser or the completion of a school project, but the nature of the café allows the conversation to continue beyond the original intent.
An increased number of patrons now use the café as a place of social discourse. While this habit never left urban areas in a post-hippie world, many areas of the country became disconnected. Now, with wireless internet and a Starbucks in every town, Middle-American patrons do not have to feel any less connected than the urban hipster.
The casual observer will note textbooks left turned to the same page all night. A male and female sit over a textbook, respectively, glancing at each other over their lattes, the consumption of which may or may not be carefully timed or dependent upon the conversation.
Perhaps their conversation has simply moved beyond academia; on a basic level, the two connect—is there a possibility for an intellectual romance? Casual observer moves to the next table over, faking an interest in an abandoned newspaper with yesterday's headlines.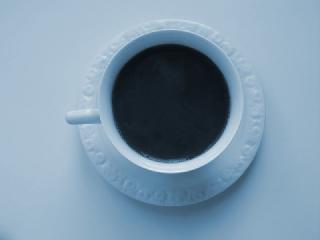 Cup of coffee
"I think he's a terrible director. I wouldn't be opposed at all if another person stepped up for the position," confesses the young woman, hands cupped around the warmth of her beverage.
"I agree that he treats the women in our congregation unfairly. I'll bring this up with a few others and see where they stand," the man concludes.
A small yet revolutionary plot, at least for one church, has been born. This conversation occurs repeatedly between different patrons and discussions of the depression of the local economy, 2008 elections, and other topics are discussed. Before the local café, there was not an appropriate place to discuss policies, or to sit down with another individual and gage his or her feelings on a particular subject.
The American café has finally developed into a place of free expression and quite discussion, whether the dialogue is between two patrons in the café or a wirelessly connected individual chatting with someone in another country.
Viva La Revolution!