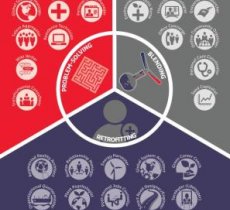 A new workplace trends reports has just been released by a company called Sodexo. The report mainly addresses the key issues affecting the workplaces of today and tomorrow and offers solutions to them. In addition to identifying the ten significant workplace trends, it also includes an article about 30 Emerging Jobs of the Future. This sounds interesting to think about what emerging careers might avail by 2030, so let's take a look at the list here. Below you can find 10 emerging careers, you can learn more about them as well as others by downloading the full 2014 Workplace Trends Report from the interactive media player at the end of this article.
Energy Harvester

Chief Experience Officer (CExO)

Talent Aggregator

Personal Brand Manager

Office Concierge

Global System Architect and Global Sourcing Manager

Organizational Quartermaster

Chef Farmer or Agri-Restaurateur

Personal Care Coordinator

Residence Technician

The titles most definitely sound intriguing, so make sure you learn more about it all below. The report itself includes a lot more information and insight in addition to the emerging careers. It addresses creating engagement and inspiration to all employees. Engaged employee, person who feels attached to his or her company, is always more productive and happier worker.
Disclosure: This post was requested by an advertiser.