Britain's Best Bevvies

When the sun comes out for a few minutes in Britain we tend to go straight for the fridge (after complaining that it's now too hot of course). The cold drinks come out and we go off in search of ice, and then decide that it's time to find a beer garden.
This craving is even worse when you're sat in a hot, stuffy office all day knowing full-well that you're bound to see pictures on Facebook of your friends soaking up the sun and enjoying a nice cold beer while you're still sat staring at your spreadsheets and looking when your next meeting is.
It even gets so bad that some people ditch their healthy salads or mundane sandwiches at lunchtime in favour of a "liquid lunch" in the pub around the corner from their place of work.
The thing is, the summer is often so brief and so disappointing in the UK that we don't often get the chance to make the most of it while it lasts. At the weekends the weather tends to take a turn for the worse so we jump at any opportunity to have an ice cream or a cold beer outside a good old British pub on a picnic bench with friends and family.
Now, we all have our own tastes when it comes to food and drink, and while plenty is made about "Britain's best dish" or what our national food is, we very rarely talk about Britain's favourite drink. Ireland is famous for its Guinness, but what about Britain as a whole?
Just what do we go for first when we race out of work or out of the house the second we see the weather forecast? 31DOVER.com, who sell spirits online, commissioned a survey to look into just that.
Britain's best bevvie
Of the almost 400 people who talk part in the survey from all over Britain, and the majority of respondents - 69 (17%) - with both male and female voters, went for
beer, or real ale
, as their preferred drink.
When pulled together under the topics of wine, lager, beer, cider, spirits and Ďothers' (such as Guinness and "alco-pops"), the majority verdict went in favour of
spirits
, however, with 136 votes (34%).
With beer the most popular choice by some way, it was interesting to see how close the other choices were. The second favourite was
wine
(generically - i.e. no preference in terms of rose, white or red), with 47 (11.9%), then
cider and vodka
with 42 apiece (10.6%), just ahead of
lager
which brought in 41 votes (10.3%).
Cocktails
, rather surprisingly when you consider their association with celebrations and partying, only picked up 10 votes (2%) while
Guinness
- which is incredibly popular in Ireland - brought in just 6 votes (1%).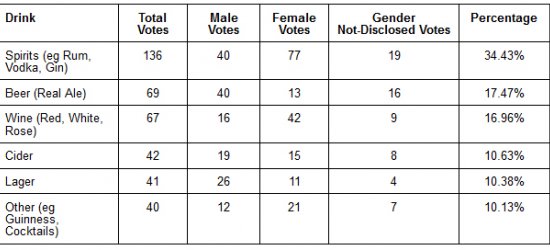 ---
more in The Orbit
Documentary Photography Ė Be the storyteller in the News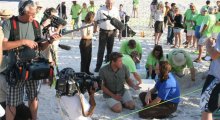 Have you watched the local newscast and wished that you were on the frontlines of breaking events? Does the thought of environmental challenges, exposťs, international relief or unfurling the story of chemical leak in a local community put you on the edge of your seat? For those of us who dream of blending journalism with pictures, taking on the exhilarating world of documentary photography draws us in with its charms and promises of adventure.
Thirty Percent of parents admit to buying adult video games for their children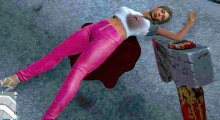 Research undertaken by a voucher code website reveals that 30% of UK parents buy video games for their children which are not age appropriate, including adult games such as Grand Theft Auto, Call of Duty and Battlefield whilst a further 35% wonít even play them first to see if they are suitable.
The 6 Most Irritating Things People Do at Conferences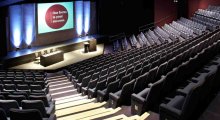 Conferences, although great for bringing lots of enthused people together under one roof for the sake of discussion around a shared passion or interest, also bring their fair share of annoyances. From disrespectful attendees sabotaging speaker presentations, to someone snaffling all the food and drink of the hard-working catering team, the list of high-ranking sins is long enough.
An awesome way to use your mobile to get discounts on non-discount hotels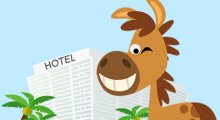 We all know it, we've all seen it. The world of mobile apps is a never-ending source of new features for us to use, and sometimes, just sometimes, they can be something very, very useful. If you like to travel a lot like me, you start to appreciate to quality as well as the good price of accommodation more and more with each trip.
InfraGard: Who's Watching the Watchers?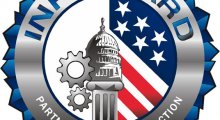 Like something out George Orwell's 1984, a new and dangerous entity has quietly emerged that may well threaten the very foundation of our republic. In collaboration with the FBI and the Department of Homeland Security, private industry has assembled a paramilitary force that operates in concert with law enforcement, but without the knowledge or consent of our elected officials.