How good has Cristiano Ronaldo been?

On 13th May 2018, Juventus made headlines around the world when they announced the signature of world superstar Cristiano Ronaldo. The signing of the Portuguese forward was the most expensive made by any Italian club, and became the most expensive player aged 30 or over. Unsurprisingly, the announcement of the signing had a huge impact on the
Juventus to win Champions League odds
. Juventus immediately went from outside favourites to amongst the favourites overnight.
Their start to this season's Champions League campaign has shown exactly why the Turin-based club are amongst the favourites, securing two wins from their first two games. A 2-0 away win in the opening game against Valencia was followed by a 3-0 win over Swiss side Young Boys.
Their next opponents are Manchester United who are arguably their toughest opponents in the group. Like Juventus, United are also unbeaten in their first two group games, but could only manage to grind out a 0-0 draw at home against Valencia. Despite their failure to beat the Spanish side, they are still a very tough opponent to play against.
Both teams will consider this game a must win in order to move towards their goal of securing qualification to the next round. However, it is likely that this match will be an emotional one for new Juventus signing Cristiano Ronaldo.
The Portuguese winger spent the early parts of his professional career at Old Trafford, developing from a fast, tricky winger into the world class striker that he is today. Without the coaching of Sir Alex Ferguson and René Meulensteen, it is unlikely that Ronaldo would be the player that he is today.
With Ronaldo set to return to Old Trafford in a few days' time, this infographic has been created which looks back at the highlights of Ronaldo's career. Check it out!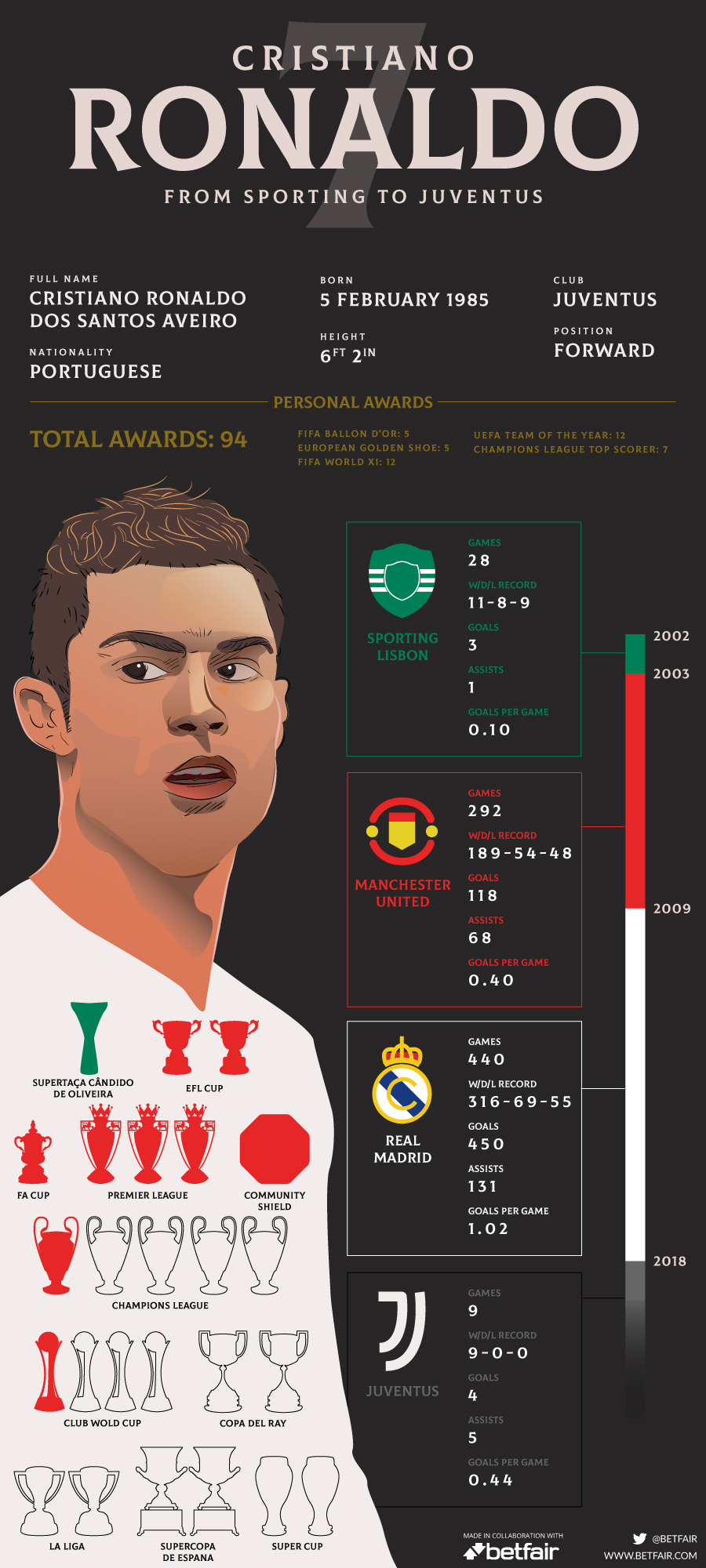 ---
more in Sports
A Rejoinder on Cricket
I am inclined to pen this article, having read REECE PEACOCK Ďs piece in the Cheers about the second test match currently in progress in Australia between India and Australia.
Even Perfection has its Faults
You can try to convince me as much as you would like the 2007 Patriots are one of the best teams in sports history. They have arguably the best quarterback in football history, one of the best receiving cores ever, and the sickest mad scientist for a coach ever. I will disagree with the first one.
India getting Beaten - wants go home
On January the 6th Harbhajan Singh received a 3-match ban from the International Cricket Council for supposedly racially taunting Symonds. Then the bombshell.
Not This Time Kenny
So Kenny took over the organization in 2001. He has been to the playoffs ONCE since then. Grant it, the Sox won the WS that year, but do the math. He went once in six years. 1/6=.2. Do know what .2 is? Itís 17%; a failing grade so roughly speaking Kenny Williams has failed as a GM.
Why Jimmie Johnson Is My Hero!
NASCARís famed Nextel Cup Championship goes to Jimmie Johnson of El Cajon, California! Homestead Raceway hosted the last contest of the year.