Jesus Christ's Sand Writing
Just what did Jesus Christ write in the sand? The Pharisees brought the adulteress to Him on the temple steps. Maybe they sought to probe His knowledge of the Law of Moses with the hope to entrap and accuse Him of some wrong before His followers. Perhaps some even questioned how far the forgiveness He spoke of went. Surely they were seeking to tarnish the image that the masses had of Him. Instead of answering quickly, Jesus knelt down and just wrote in the sand.
Just what did Jesus Christ write in the sand? A crowd of people most likely surrounded Jesus, pressing in trying to witness another confrontation between Him and the Pharisees. Standing before Jesus, in the middle of the crowd, the woman probably stared down at her dusty feet wishing she could vanish from the face of the earth. I imagine that when Jesus finally stood up after listening to all the taunts and questions, and after He pronounced, "He that is without sin among you, let him first cast a stone at her," that the woman fell to her knees in desperation. Again, He likely crouched before the temple and continued His writing in the sand. While Christ wrote, stones fell from dirty hands and people slowly departed. Eventually, Jesus was left alone with the adulteress on the temple steps.
Just what did Jesus Christ write in the sand? Perhaps no one saw the writing in the sand, perhaps only the woman could see the writing, or perhaps Christ only doodled. Personally, I think everyone caught a glimpse of what He wrote and it shocked everyone so much, that combined with His judgment, all were shamed when the light of that sand writing exposed their own guilt. Whatever He wrote, it had a profound effect because it's hard to believe that His statement alone would drive the self-righteous, pompous, white washed Pharisees away. In truth, these people were no different than us today.
Just what did Jesus Christ write in the sand? The adulteress stayed, back on her feet, probably in a state of shocked disbelief, looking at Christ writing in the sand. When He finally stood, He looked about and asked, "Woman, where are those thine accusers? hath no man condemned thee?" She muttered in reply, "No man, Lord." And Jesus declared, "Neither do I condemn thee: go, and sin no more." Strange, Christ, the only person there without sin, would have been justified under the law to stone her. Instead, He forgave her. Why?
I think He forgave her because Christ sees the person first and the sin second. He sees beneath the actions to the heart and He knows the heart's worth. Why else would He be willing to suffer and die on the cross for the purpose of reuniting man with God? Man must be worth something great and unfathomable. It's difficult for me to comprehend such love, but somehow Ive gained an inkling of it, a blurred image in a mirror. However, it must not be forgotten that Christ did not just forgive her, but that He also gave her the command to leave her life of sin. Christ gives that command to us too. Paul addressed this in more depth in Romans 6:15-16, "What then? Shall we sin, because we are not under the law, but under grace? God forbid. Know ye not, that to whom ye yield yourselves servants to obey, his servants ye are to whom ye obey; whether of sin unto death, or of obedience unto righteousness?"
Just what did Jesus Christ write in the sand? Something, that when combined with His statement, "He that is without sin among you, let him first cast a stone at her," I turned, dropped my rock, and left my wicked life forever.
And Jesus, with His hands, erased those sins in the sand.
Read the full Biblical account of this event in John chapter 8.
Harold M. Paxton, III (http://www.thegreatseparation.com), All Rights Reserved.
---
more in Opinion
The Age of Discovery - Is It Over?
Life just keeps getting more technical - computers, cell phones, space ships - but do we know what's going on or are these tools as well understood as why a knife cuts?
The Scales of Justice: Weighted With Money Instead of the Truth?
A man has been accused of murder. He has an extensive criminal record and a diagnosis of a potentially dangerous mental condition. He was placed in the neighborhood of the murder, on the night of the murder. He was found with the victims blood on his shirt. And the City of Escondido in California seems to want him found not guilty.
Utah: Charges of Fetal Homocide
On March 11 Utah authorities charged Melissa Ann Rowland with murder in the death of one of her unborn twins. The charges stem from Rowland's refusal to have an emergency Caesarean section, a procedure doctors urged after they detected health problems with her unborn babies.
'Belonging' in the Land Down-Under
After 200 years or so of European settlement in the Land Down-Under many Australians assume that this country, in comparison with others, is one lacking in both culture and history. What many dont realize however is that Australia has claim to a unique culture that precedes the arrival of Captain Cooks First Fleet by 40,000 years and more.
Mud-slinging or Issues?
The election of 2004 is now underway in the United States and the negative ads have already started.
Religion a blessing or a curse?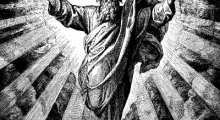 I will always remember something my former religion teacher said: Religion is a human beings yearning to attach to something. But is religion a blessing or a curse? Now that's a question.
Work That Constitution, Baby!
The sudden interest in gay marriage in the U.S. is completely ridiculous and mostly diversionary in nature for President Bush. I understand that to the President and his cronies a happily confused and glaringly stupid voting populace is ideal for reelection and the passage of restrictive laws. But really, do we have to create such turmoil among a group that is finally celebrating SOME acceptance in the Land of the Free? What I propose to do here is offer some solutions to the problem with gays in the U.S. and their nagging, incessant need to celebrate unions with the people they love, provide legal and financial benefits to their spouses, and grant them equal rights and freedoms as guaranteed in the Constitution. The Old Constitution Being an entertainer, Im practically prohibited by law from having problems with gay people. But lets look at some scenarios anyway. If all gay men disappeared, there would be a sudden decrease in movies, plays, circuses, television shows & entertainment agencies for me to enjoy and work within. Id never have any good looking clothes to wear on stage and my hair would always be a disaster. At the absolute least, Id never be able to watch Queer Eye again and that alone would be catastrophic. And who the HELL would they get to be the center square on Hollywood Squares? Take all the lesbians out of the equation and there could be some improvements. Without them wed have no Rosie ODonnell or Ellen DeGeneres on our screens, no K.D. Lang or Melissa Etheridge music and no Xena, Warrior Princess and hot girl-on-girl action in our porno - WAIT! Forget I said anything!
Muslims Killing Muslims
References for this article have been made again and again from the book "Ibn-Khaldoon History". On each page, it describes the killing of Muslims by Muslims.
Wasting Time?
I am a full time college student at WVU. I, unwittingly, registered for 20 credit hours this semester and I am taking a plunge for it. It started out fine; balancing school, homewor...