10 Best Games for Sega Dreamcast

10 Best Games for Sega Dreamcast
There are a lot of Games for consoles Sega Dreamcast. You can easily find any genre that you like. It can be racing, horror, thriller or adventure and many other variants. The choice depends on your mood and desire.
Dreamcast ISO
files are freely available. If you decide that it's time for you to play exciting and interesting games with a thoughtful plot, but do not know what to choose, then
RomsMania
provides a huge selection of games for different tastes. Here you will find exactly what you were looking for.
In this article, we picked up 10 interesting games that you will, for sure, like and you will spend time with pleasure on their passing.
Evil Twin: Cyprien's Chronicles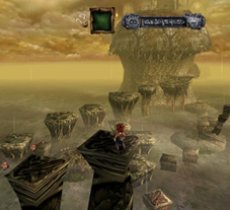 Children's fears and fantasies are often very unusual, but at the same time harmless, unlike adults. But sometimes strange and eerie things happen, and the child's imagination paints such pictures, which it is not possible to describe.
Cyprian is a little boy who is about to turn 10 years old. For him, this holiday is rather a sad date, because on that day his parents died, and since then the orphanage has become his home. Cyprian's friends decided to surprise him and organized a small party, but the poor child, having failed to cope with the overwhelmed feelings and emotions, just ran away. Then the events took a completely unpredictable turn: the children disappeared, and Cyprian found himself in the fairy-tale world created by his imagination.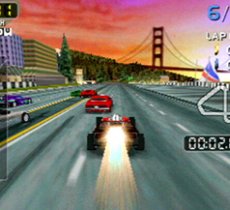 In front of you is what Sega Dreamcast has so lacked. The San Francisco Rush 2049 is one of the best console racing games. Racing will take place on the most beautiful futuristic tracks. Six cars are participating in the race simultaneously. One of the features of the game is that on the track there are a lot of jumps, bumps and other irregularities. And the speed is decent. So after a flight, sometimes you can spend up to 10 seconds in the air, or even more. And there is a breeze that can disrupt the flight path, after which the car breaks up against a futuristic wall, and you are behind. Then you think "Oh, I wish I had wings like an airplane". The point is, that you have such a possibility. In flight wings are issued, and you can (if you have time, of course) correct the flight path if it was broken.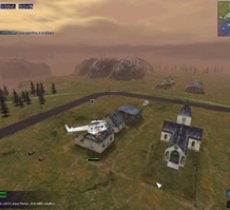 The game Conflict Zone takes us to the nearest future in 2011. Yes, now this is not the future, but the game was released in 2001. The plot of the game is simple. The plot is confronted by two sides: International Corps For Peace (ICP) and the organization GHOST (Command & Conquer series). ICPs are the so-called "good guys" who will never kill civilians and destroy cities, and GHOST, accordingly, should use the opposite methods, but this organization should not look too low in the eyes of people. The way they treat you plays a very important role in conducting a successful campaign because these very peaceful inhabitants will give you access to new weapons, technologies, and also provide you with money.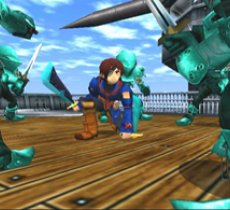 If you like role-playing games, then this game has everything you need. An intricate plot in the style of fantasy with flying sailboats, bad wars of the Empire and good pirates, the main character without fear and reproach and all that. We want to note that the game is pretty well implemented graphically, filled with pseudo-classical music, which increases the intensity of the plot in separate moments. And of course, there are turn-based battles. If you successfully act with your character, with time it will be fighting very well.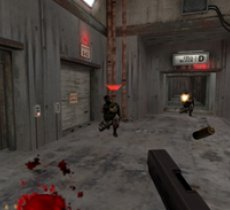 Half-Life - this is a first-person shooter, which is an example in its genre. For sure, any gamer at least once heard about Half-Life. Company Valve managed to turn the genre of shooters upside down, creating a truly live shooter, in which the hero is not in a multi-storey labyrinth, but in an action movie. This version of Half-Life was made specifically for SEGA Dreamcast. It was completed when SEGA in 2001 announced that it wouldn't soon support its offspring and generally withdrew from the console business. Then the publishers did not publish the game on Dreamcast, but quickly ported it to the PC as an add-on to the original. A couple of years later the game got to some kind people, and they made a release on the Internet.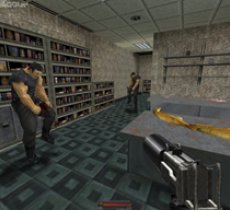 A game about the adventures of a veteran of Vietnam, the "soldier of fortune" John Mullins against international terrorism, which aims to do something bad with nuclear warheads. The events of the game Soldier of Fortune smoothly flow into the simulator of the butcher with all the ensuing, falling out and just wall-splashing consequences. And it does not matter that the names of all weapons are fictitious: UMP or Benelli shotgun, real analogs are easy to recognize not only externally, but also through the horrific wounds that they leave in enemies. But what can you do if the completion of good doings and the establishment of orders throughout the world - this is an exceptionally dirty and bloody business?

Three years before the game, the prince of the kingdom of Arugan began to rule. And now the kingdom declares its independence and starts campaigns to seize new territories. Now 70% of the continent is at his disposal. The Free Federal Government forms a special mercenary army to attack the invaders. You will have to lead the soldiers to victory and put an end to the bloodshed of innocent people.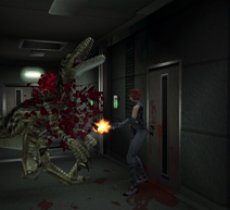 One of the most popular themes of horror films - humanity puts experiments on life, but something is not right. Of course, the experiments did not bring to the good consequences. In this case, one intelligent scientist was angry with the government, because it refused to cooperate with him. Therefore, this scientist and several of his people organized their own laboratory on an uninhabited island right in the Pacific Ocean. And the government didn't approve that idea. A special detachment was sent to the island. Arriving at the place, the special agents saw only bloody corpses, a wrought metal and the obscurity. The island is full of creatures from the Jurassic period, but the regiment commander Regina (your hero) starts a war against them.
Draconus: Cult of the Wyrm

Before you, there is an action called Draconus Cult of the Wyrm for the Sega Dreamcast. The game features 2 warriors, who are called Cynric or Eowyn. Heroes practically do not differ in characteristics, only their abilities and appearance are different. In Draconus Cult of the Wyrm you will have to fight the evil that destroyed the ancient city. People are terrified and unable to do anything. And, as usual, your hero comes to rescue them with his faithful sword and shield.
Carrier - a terrible bloody game in the style of Survival Horror for Sega Dreamcast. The nuclear aircraft carrier Heimdal, intended to destroy the enemy base, turned into a real hell on the way back. To clarify the circumstances, he was sent to the rescue the team SPARC, which, however, consists of only 2 people - Jack Ingles and Jessifer Mining. Both of them go to the aircraft carrier in a helicopter and soon discover a ship. But when approaching it, the helicopter gets into the range of the emergency security system and it is knocked down. Miraculously putting the helicopter on the deck of Heimdal, the pilot finds his death in the clutches of the first monster, and you begin the investigation. It turns out that the ship was carrying mysterious creatures. And after the attack on the ship, the terrorists spread a terrible virus, which turned crew members into unknown creatures.
---
more in Entertainment
Looking for some musical amusement this season?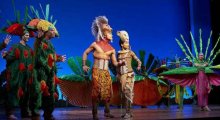 For all those seeking for nice cultural alternatives this season, there is plenty of options along the city of London where theatrical performances for all ages are taking place.
Slot Machines - Then til Now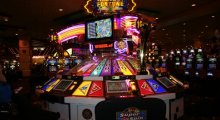 Ever since it was first sat on a stool with a heavy mechanical lever and a drawer that legally couldn't dispense money if you won, slot machines have had an appeal as a fun way to put your fate in the hands of Lady Luck.
Is Roulette better Online or Offline?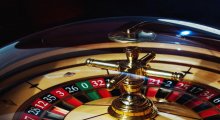 Everything's digital nowadays - getting your weekly shop, finding your next date, no matter what it is you want to do with your free time, odds are good that there's a digital equivalent just waiting ...
How to watch whatever you want, whenever you want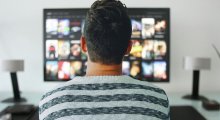 When you're on the move, it can be tough to stay tuned to your favorite shows. Crossing borders between countries can mean you get access to a very different Netflix or Hulu library than the one you're used to, one with a lot more local-language content and a lot less flagship US shows.
In Search of Adrenaline? Stake on Minecraft!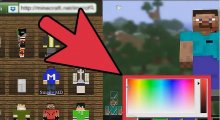 Do you like sports and that feeling of sweet agitation that overwhelms you during competitions? You are definitely a venturous person unafraid of challenges and risks.