Online slot machines: a matter of skill or luck?

Slot games have been around for over 130 years. It all started with the Liberty Bell, a 3-reel mechanical machine brought out in the bars of San Francisco. Back then, the slot was undoubtedly a test of luck. Gamblers did little more than pull the lever, cross their fingers, and hope that 3 matching symbols would appear across the machine's solitary payline.
Since the Liberty Bell's day, however, slots have progressed remarkably. Most are now played online. Digitalisation has allowed them to provide a more arcade-like or videogame-style experience, with immersive storylines, interactive bonus features and more sophisticated reel sets all calling for greater user engagement. For this reason, many have started to argue that being a profitable slot player in today's world requires not just luck, but also skill. . .
There's a potential danger in this view though. An emphasis on skill implies that players have the power to control outcomes. It's important to remember that slots remain, fundamentally, games of chance. There's no way of guaranteeing a win, and outcomes are always randomly generated â€" that's where the thrill comes from!
So it's less a matter of skill, and more a case of being able to put yourself in a good position to get lucky. Our top tips for doing this are:
1. Paying attention to RTPs.
There are now more slot games available than ever before. The online market is literally bursting with hundreds and hundreds of different titles to choose from. Knowing which game to play is tricky. Good slot players will first consider the game's return to player (RTP) value. This is a percentage which tells you what you can theoretically expect to get back from the game. Let's say, for example, you place a hundred £1 bets on a slot with a 96% RTP. You could then expect to win back £96. The higher the RTP, the more rewarding (in theory) the slot should prove.
2. Making the most out of bonus features.
Bonus features are another thing to look out for when deciding what to play. The more bonuses a game offers, the better: Free Games Features, Pick-and-Click Bonuses and Cascading Reels can not only make gameplay more exciting, but provide you with more opportunities to win cash prizes.
Knowing the mechanics of a game's bonus features before you play can help you to make the most out of them if/when they're triggered during the game. You'll find this information by clicking on the paytable icon in the slot (this is usually located beside the reels).
3. Getting some free practice in.
Whilst the RTP and bonus features can help you pick what games to start playing, the best way to realise what slots suit you best is by getting some experience under your belt.
Take advantage of the generous offers handed out at online casinos. Look for somewhere that lets you sample their slots in demo mode for free; or, better still, find somewhere that gives you a good sign-up bonus, or even
free spins
, when you join. This will let you test different slots without having to risk your own cash.
4. Knowing when to stop.
Any good player needs to know when it's time to call it quits. Being able to set a reasonable budget, and stick to it, is important part of gambling safety. Never wager more than you can afford to lose and, if it's not fun anymore, stop playing.
Once you've take note of these 4 top tips, you're ready to get out there and start trying your luck with today's online slots. Have fun!
---
more in Entertainment
The rise and rise of Ellen Page
Ellen Page is without question the woman of the moment in Hollywood right now. With a Best Actress Oscar nomination recently stacked up alongside a list of achievements for her turn in 'Juno', including being named the Breakthrough Actress of the Year at the Hollywood Film Festival, she is, to coin a lovingly overused tinseltown term, 'hot' right now. Piping hot.
Between a Rock and a Heart Place
Screw Geoffrey Chaucer. Not for his poetry, quite honestly, I don't think I've ever read any of it, but because apparently he inadvertently created Valentine's Day. I didn't know this until recently. I just assumed the holiday was the byproduct of greeting card company greed and lack of anything better to do in the month of February, but evidently it's been around for quite some time.
Halle Berry burns at the box office
Buried deep within the embers of grief, a spark of friendship ignites in relationship drama 'Things We Lost in the Fire'. However, while this thoughtful, emotional film delivers some strong performances and appealing cinematography, don't expect a blaze of drama and excitement.
Girls Aloud or Girls Alone?
Despite having fame, wealth, beauty and a hugely successful pop career, the members of Girls Aloud seem to be lacking in one department - a happy and healthy love life.
Great American Dumb Ideas: Elder Blues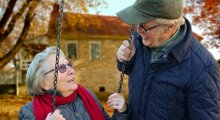 Fads in mental health diagnoses come and go. Something called Existential Neurosis was popular for a while, but seems to have lost some of its gloss in recent years. For a long time now, any high-energy, active child risked being diagnosed—often misdiagnosed—with Attention Deficit Hyperactive Disorder (ADHD).