The Top Games To Play At Ladbrokes Casino

There are so many great games that you can enjoy over at Ladbrokes Casino, whether you're playing on your computer, tablet or smartphone. It's packed full of exciting slot games, a whole host of traditional table-based games and modern variations as well as other card games, progressive jackpot games and even scratch cards. There's almost something to suit every possible gambling taste there no matter what your skill level and we've picked out just a handful of the very best currently on offer.
THE INCREDIBLE HULK SLOT
There are numerous slot games in the market currently borrowing from the ever-expanding Marvel universe and there are plenty that can be found in amongst the most popular Ladbrokes games. The 5 reel, 50 payline game includes 3D animations, effective sounds and impressive graphics that really help bring the game to life. There is an expanding Hulk bonus which when appearing on the third reel means that you also get a couple of free respins thrown in. Spin in a trio or more of Hulk scatter symbols and you'll receive 10 free games and a multiplier for your troubles. The game is part of a special group of Marvel-based slots that also means players could be lucky enough to pick up one of 4 special Progressive Jackpots.
PREMIUM EUROPEAN ROULETTE
For those who feel more comfortable at the tables Ladbrokes Casino is able to provide players with a number of virtual tables featuring the most popular and classic casino games around. There aren't many casino-based games more iconic than Roulette and Ladbrokes caters for all types here including both the American and European versions of the game. With their Premium European Roulette option you get quality graphics and realistic gaming animations making it a truly immersive experience and almost just as good as being at a real table. The beauty here however is that you can enjoy it without even having to leave your living room.
PREMIUM EUROPEAN ROULETTE
It became a hugely successful musical and the hilarity and magic of the absurd 'Monty Python and the Holy Grail' movie was adapted beautifully for theatre thanks to its fun storyline and being chocked full of memorable musical numbers. And this unique and exciting slot game delightfully encompasses plenty of humour and colourful entertainment straight from the movie as well as using classic Terry Gilliam-styled animations along the way. It's a 5 reel, 20 payline experience you won't forget in a hurry and you'll be able to enjoy plenty of familiar scenes during the special bonus rounds.
FANTASTIC FOUR SCRATCHCARD
Not everyone has the confidence or even the patience to sit and play all the great games available on Ladbrokes Casino. So those who are looking for some quick gaming action, perhaps on your way to work or when you have a spare couple of minutes, will be able to choose from a range of cool scratch card games. One of which is the Fantastic Four Scratch Card which requires players to find a winning line featuring a host of characters from the superhero franchise. Match 4 in a row and you could win up to 10,000 times your original bet. If you can line up Mr Fantastic, Invisible Woman, Human Torch and the Thing you'll even win yourself a free card to play again!
---
more in Entertainment
The rise and rise of Ellen Page
Ellen Page is without question the woman of the moment in Hollywood right now. With a Best Actress Oscar nomination recently stacked up alongside a list of achievements for her turn in 'Juno', including being named the Breakthrough Actress of the Year at the Hollywood Film Festival, she is, to coin a lovingly overused tinseltown term, 'hot' right now. Piping hot.
Between a Rock and a Heart Place
Screw Geoffrey Chaucer. Not for his poetry, quite honestly, I don't think I've ever read any of it, but because apparently he inadvertently created Valentine's Day. I didn't know this until recently. I just assumed the holiday was the byproduct of greeting card company greed and lack of anything better to do in the month of February, but evidently it's been around for quite some time.
Halle Berry burns at the box office
Buried deep within the embers of grief, a spark of friendship ignites in relationship drama 'Things We Lost in the Fire'. However, while this thoughtful, emotional film delivers some strong performances and appealing cinematography, don't expect a blaze of drama and excitement.
Girls Aloud or Girls Alone?
Despite having fame, wealth, beauty and a hugely successful pop career, the members of Girls Aloud seem to be lacking in one department - a happy and healthy love life.
Great American Dumb Ideas: Elder Blues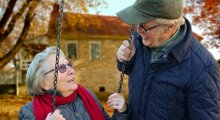 Fads in mental health diagnoses come and go. Something called Existential Neurosis was popular for a while, but seems to have lost some of its gloss in recent years. For a long time now, any high-energy, active child risked being diagnosed—often misdiagnosed—with Attention Deficit Hyperactive Disorder (ADHD).