5 Things Every Indie Band Must Do If They Want to Be Successful

Just about everybody has the ability to put together an indie band. Not everybody has the ability to take that band "all the way." Yes, it is true that building a following for an indie band is easier than it has ever been. Twenty years ago bands like Nirvana had to pay through the nose to produce physical media and play at every venue that would have them. Today all you really need is access to the Internet.
Still - having a loyal audience is great but that doesn't necessarily mean that you are successful. If you want to be successful, here are the five things that you must do.
1. Get Online. Seriously
If you want to get the word out about your band (and get people to buy your tunes) you have to be online. You need at least a basic website that tells people who you are, where to buy your music and where your upcoming gigs will be. It's also helpful to have a social media presence.  Finally, you'll want to make your music accessible through all of the major media portals: Amazon, iTunes, BandCamp, CDBaby, Spotify, Pandora, Rhapsody, etc. Hypebot has a great plan that you can follow to help get your web presence up and running.
2. Ninja Gigs
Setting up and playing on the fly is a great way to introduce your sound to people who might not have ever heard it otherwise. Sometimes this is called "busking." Another approach to "busking" is to play a "ninja gig." The "Ninja Gig" is a quasi-spontaneous set that is often played during another, bigger, event. For example, Amanda Palmer is famous partly because she is so great at setting up ninja gigs.
3. Festivals and Conventions
Here's a secret that not many other people will tell you: even the big "brand name" festivals love to feature at least a couple of indie or unknown bands in their lineup. It helps keep things fresh. Yes, many of the indie bands who are signed play during the tearing down and setting up of the headliners, but still—that fifteen to twenty minutes of exposure helps introduce your sound to literally thousands of people in a single go. Jordan Kurland, the founder of Noise Pop, confirmed as much in a recent interview with Billboard magazine.
4. Find proper management
It shouldn't be surprising to know that most musicians are Type A personalities. They want to control every single aspect of every part of their band's life and livelihood. If you pay attention, though, most musicians only take off after they find proper management. Why? Most people believe that it is because the managers and labels have connections that the indie guys don't have. To some extent this is true. But, according to industry leaders like the aforementioned Jordan Kurland, it is also true because farming out the booking and management duties to someone else frees up the band to stick to the creative stuff. If you're busy trying to convince a venue to let you play there, when will you have time to make new music?
5. Tour
If you never leave your home town, even with the best web presence possible, you won't ever become as successful as you want to be. Heck, even the Gorillaz eventually had to tour and they're animated! Touring is grueling and time consuming, yes, but it is how most bands actually make the money they need to make to keep creating. Pro Tip: When you start getting invited to places, you can ask those places to pay for your travel expenses. This can cut down on touring costs considerably.
These are just five of the things we think are the most important parts of indie band success. Did we leave anything out?
---
more in Entertainment
The rise and rise of Ellen Page
Ellen Page is without question the woman of the moment in Hollywood right now. With a Best Actress Oscar nomination recently stacked up alongside a list of achievements for her turn in 'Juno', including being named the Breakthrough Actress of the Year at the Hollywood Film Festival, she is, to coin a lovingly overused tinseltown term, 'hot' right now. Piping hot.
Between a Rock and a Heart Place
Screw Geoffrey Chaucer. Not for his poetry, quite honestly, I don't think I've ever read any of it, but because apparently he inadvertently created Valentine's Day. I didn't know this until recently. I just assumed the holiday was the byproduct of greeting card company greed and lack of anything better to do in the month of February, but evidently it's been around for quite some time.
Halle Berry burns at the box office
Buried deep within the embers of grief, a spark of friendship ignites in relationship drama 'Things We Lost in the Fire'. However, while this thoughtful, emotional film delivers some strong performances and appealing cinematography, don't expect a blaze of drama and excitement.
Girls Aloud or Girls Alone?
Despite having fame, wealth, beauty and a hugely successful pop career, the members of Girls Aloud seem to be lacking in one department - a happy and healthy love life.
Great American Dumb Ideas: Elder Blues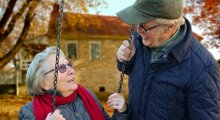 Fads in mental health diagnoses come and go. Something called Existential Neurosis was popular for a while, but seems to have lost some of its gloss in recent years. For a long time now, any high-energy, active child risked being diagnosed—often misdiagnosed—with Attention Deficit Hyperactive Disorder (ADHD).