Tired of the old one-two-three-say-cheese photos from your holidays? On your next trip to Niagara Falls, take the opportunity to capture the continent's most photogenic waterfalls and your loved ones with these easy tips for great photos.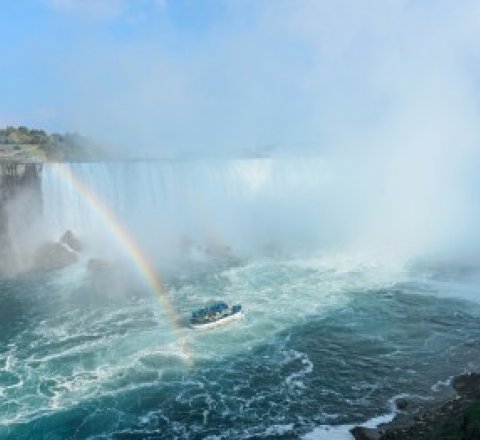 Get a Room With a View
Taking stunning photos is easier when you've got a variety of interesting angles and viewpoints to shoot from. Take advantage of
Niagara Falls Ontario hotel deals
, especially during off- and shoulder-seasons and get a room that has a view of the falls. Leave open the curtains, and you might discover that photographic inspiration can strike even while you're brushing your teeth!
Bring a Polarizer
Any time you shoot photos of water features like the amazing mist and cascades at Niagara Falls, it's worth it to bring a polarizer filter for your camera lens. This will help deepen the blue of the sky and bring out the shine of the falling water. It can also help make water and glass surfaces less shiny when you're shooting in direct sunlight. Additionally, a neutral density filter will let you bring out the blurring effect of the falling water when using a tripod.
Don't Forget Your Wide-Angle Lens
Because Niagara Falls is so huge, it's hard to get a real feel for the enormity of the views without a wide-angle lens in your kit. While you'll want some narrower lenses for portraits and detail shots, a waterfall like this one is definitely worth toting a wide-angle along.
Take the Season Into Account
When looking for accommodation at Niagara Falls, think how the season will affect your photography. In the fall, russet-colored leaves will add a very warm burst of color to your shots of the cold water. In spring, budding flowers and light green foliage brighten up images even on cloudy days.
Don't Only Shoot the Falls Themselves
Of course you want to take photos of the waterfalls. That's the main reason for coming to the Niagara Falls area, isn't it? But don't miss the smaller details that make this area stunning. The forests and towns in the area are all worth your shutter's attention.
Use Aperture and Shutter Priority
When you do focus on the water, remember to change up the aperture and shutter priority settings on your camera and see how this affects your images of the cascading water. A longer shutter speed can make the flowing water appear to mist or ribbon, while smaller and wider aperture settings can help catch starbursts of light.
Change Your Viewpoint
So many shots of the famous waterfalls are taken each year it can seem hard to get anything surprising or unique. However, don't give up. Hike some of the trails around the waterfalls, ride the Maid of the Mist boat tour, and think of ways to alter your viewpoint a little.
Catch the Rainbow
Sunlight falling through the waterfalls' mist at an angle can create a brilliant rainbow suspended in the air — and sometimes a double rainbow over Horseshoe Falls. Adjust your camera's aperture setting and polarizer to get the most colorful shots of this natural phenomenon.
By Night, Visit the Illuminated Horseshoe Falls
Though most of the photography in the Niagara Falls area is best in daylight hours, the nightly illumination of Horseshoe Falls can make for some atmospheric shots and romantic portraits.
Ride the Underground Boat
Only a half-hour's drive from the falls themselves is the Lockport Cave system. Here, try out some unique shots while riding the underground boat through abandoned mines.
Don't Forget to Use the Flash
Even when you're not underground or taking photos at night, your flash can help brighten up otherwise murky images. Especially useful for backlit photos and portraits taken in front of the falls, your flash can make the difference between a wow photo and a so-so shot.
Beware of Getting the Camera Wet
You won't take any pictures home, good or not, if you damage your camera and equipment with water on your trip. When you get close to the falls, you may find yourself drenched by spray from the cascading water. Make sure your lenses are water sealed, or that you have other protection from the elements.
About the Author: Shannon Allen is a photography student who attends school in Toronto. She loves finding
Niagara Falls deals
and visits the region every fall when the forests' leaves are at their most vibrant.