With a reputation as the ultimate luxury holiday destination for honeymooners, retired professionals and scuba fanatics alike, the Maldives is a name that has quickly become synonymous with relaxation and indulgence. Made up of hundreds of tiny coral islands ringed with luminous turquoise waters, an abundance of secluded palm-fringed gorgeous white sand islands means that sun-seeking tourists are likely to find themselves able to enjoy themselves on their very own exclusive little stretch of paradise. Great for private getaways, the Maldives offers guests many beautiful resort options to choose from, but for those finding themselves spoiled for choice, this article will take you through the perks of five of the best hotels.
Baa Atol
For those seeking soothing solitude, try Baa Atol. With thatched roofs and a lagoon in the centre, this UNESCO Biosphere Reserve is truly a wonder. Comprised of 78 overwater villas, each accompanied by its own pool and set on a private island of soft white sand, this resort marks a dream come true. With king size beds, open sky bathrooms and your own personal butler for good measure, this is the place to unwind in style. One of the most unique selling points of this resort is its glass walled restaurant built below the ocean's surface so guests can watch the sea creatures drifting by.
Six Senses Laamu
For those feeling a bit guilty about their carbon footprint, this eco-friendly resort with 97 thatched-roof villas could be just the ticket. With beachfront villas backed by a mangrove forest, pistachio daybeds and outdoor rain showers not only does this resort have a sense of ethical responsibility, it also comes in at a more modest price. Stocked with renewable materials like bamboo and acacia, Six Senses bans labelled water and draws a crowd of young honeymooners. With a well-stocked wine cellar with generous amounts of organic labels, an open air cinema and transparent bathtubs that allow you to see down to the reefs below, this is a perfect romantic retreat famous for its stargazing decks.
Jumeirah Vittaveli Luxury Resort & Spa
Although it is one of the more expensive resorts, a stay at the Jumeirah Vittaveli resort during your
holiday in the Maldives
is worth its weight in gold. Designed and developed by the team at Jumeirah Hotels and Resorts, each of the ninety-one suites and villas is accompanied by its own private massage room, a private pool and access to the beach. For those really looking to splash out, the 8,600 square foot presidential suite can be hired out for a cool £10,000 per night. With a spa, two private swimming pools and an outdoor shower a stay at the Jumeirah Vittaveli resort is a truly unforgettable luxury experience.
Gaafu Alifu Atoll, Maldives
One of the most luxurious resorts on the islands (and that's saying something!) the 22 Gaafu Alifu Atoll villas reside half a mile offshore, and, depending on your preference, are located in amongst natural vegetation or above beautiful coral formations. For a fee, a butler will personalise your stay to tailor every activity - from sipping handpicked organic wines to private cruises to a champagne dinner on the beach under a private tent - to meet your taste. With marble baths complete with Hermès toiletries to take a dip in, ten-foot wide beds, and a staff-guest ratio of 4:1 this resort is the ultimate place to luxuriate and recharge your batteries.
Taj Exotica Resort & Spa
Spread idyllically along a pristine beach, this award-winning resort is perfect for reuniting mind, body and soul. Offering a range of luxury services from its authentic Indian Jiva Grande Spa, this is the place to pamper yourself. Set beside a serene lagoon, it specialises in water sports, gourmet cuisine and signature indulgent treatments. With a design that perfectly complements its surroundings, the Taj Exotica resort offers the ultimate in relaxation.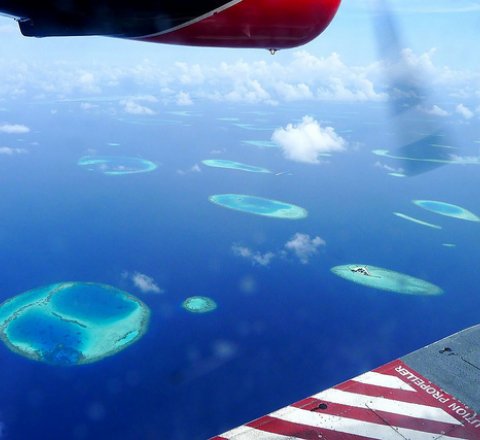 The Maldives is one of the planet's most luxurious holiday destinations. Check out its top 5 hotels and plan your dream vacation!
Sarah Michelle is a travel blogger pining for a return to the Maldives on holiday.