About the author: Penny Martinez is a freelance writer and avid solo traveller. She loves nothing better than taking off on a last minute holiday without all the stress of planning in advance.
With the cost of holidays skyrocketing and the price of relaxation on the rise, we are all feeling the pinch when it comes to our annual trip abroad. So why not use your sense of creativity and adventure? There's something to be said for trying something new and if you're chatty, easygoing and like the company of new people, we might just have the perfect solution for your vacation dilemmas. Join the growing trend for couch hopping your way to the greatest destinations on the planet for a fraction of the price.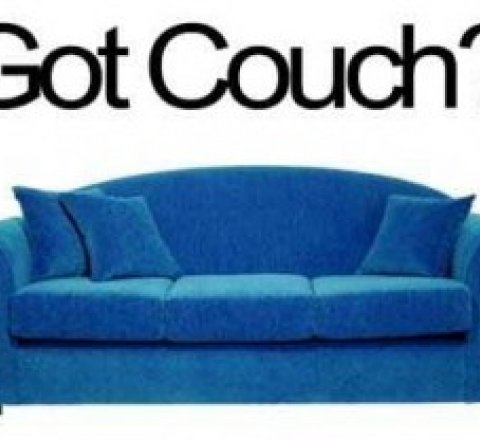 Couch hopping has become a real contender with hostel accommodation on the hippie and student trails around the world. It's pretty self-explanatory, but just to clear this up, couch-surfing (or hopping) is the process whereby people speak online and agree to lend a couch to passing travellers. There are some families or individuals who do this regularly and make a little cash from it and some who request that they couch surf at your place in return. Arrangements can be carried out through an agency or by personal agreement and there can be house rules set with contractual obligations if required.
The whole affair is conducted in a pretty casual fashion, as you might imagine. It's a wicked way for single backpackers to see the local culture in a very real way and you could manage pairs or small groups by working with people who can put up more than one person, or finding willing couch hosts nearby one another.
This kind of travel isn't for the lover of luxury and be prepared to accept basic couch or single bed accommodation in a family or a person's home. However, you might just find it opens the door to a never-before-seen side of destinations like France, Spain and Germany as well as the more exotic Asian and South American countries. You can couch surf pretty much anywhere these days and make a cheap and colourful trip across the world doing just this. Interspersing couch-hopping with some hostel revelry or splashing out on hotels for some nights is fine too. It's your holiday!
Many hosts include cooking and cleaning for their guests in the price of the stay and some people are happy to take you in for free, provided you return the favour in your home country for an agreed period of time. Families can often drive you around and there are reports all over the Web of travellers being treated like one of the gang as they receive a warm welcome to the dinner table each evening. You should be pretty free to do as you please whilst there, but really, every couch host is different and you will get a feel for this when speaking to them beforehand. With this in mind, make sure you get to know what your host expects of you in terms of feeding times, curfew and all that stuff.
Be prepared to freewheel a little and shop around online before you make any decisions. Be safe. This applies to single women travellers more specifically but is applicable to everyone. Find a reputable host through a good agency and check the feedback online, or use female only agencies. Keep in contact with the world by phone and make sure people know where you are all the time, whether on your trip or back at home. This is general safety advice and is relevant anywhere you go. Remembering you are a guest in someone else's house doesn't go amiss either.
What are you waiting for? Get online, get searching and get planning that flight itinerary for a behind-the-scenes adventure holiday with a difference.