When it comes to food, we all have our favorites, and what's considered fantastic for some is a "no go area" for others. A vegan would not be caught dead in a steakhouse just as a self-proclaimed carnivore would feel cheated if dinner did not include a steak. "To each his own" they say.
What everyone agrees on though, is that where to eat should not be decided by the roll of a dice and with that in mind, here are a few suggestions of a couple of great restaurants in Vegas that will have your taste buds tingling.
Hard Rock Hotel and casino's Culinary Dropout.
Comfort food, affordable prices and an unpretentious atmosphere sums it up. This is the perfect destination if you are looking to have a meal that will not disappoint.
Word of advice, try yesterday's soup. (Seriously)
Sensi at the Bellagio.
Four distinct kitchens, Asian, Italian, American grill and seafood cuisine will leave you spoilt for choice at the Sensi. Experience gourmet with a difference. Sensi's commitment to "sustainably grown and naturally raised" comes to life in its atmosphere and varied menu.
L'Atelier de Joel Robuchon at the MGM Grand.
This restaurant is legendary. Whatever you choose to have here, you are bound to be impressed. Close your eyes and pick a meal, it will be worth it. If you have deeper pockets, go for a tasting menu and have a little of everything.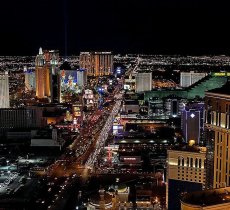 Fleur at the Mandalay Bay
Master Chef Hubert Keller, makes Fleur the gem in Mandalay Bay's restaurant crown. Chef Keller seems to have the Midas touch when it comes to food. The trouble will not be finding something that you like, as the menu is diverse while still being traditional, but rather what to pick. Soups, salads, entrees and desserts are impeccably made with the great attention to detail. You may even have the pleasure of meeting this great chef as he is known to mingle with the diners.
Top of the World at Stratosphere
This place is not called top of the world just because of the views. You will be blown away by a meal here. This is an "only in Las Vegas" experience both for the food and the view.
If you are in Vegas, make sure to dine here, lunch is great as you can see everything during the daytime.
Comme Ca at Cosmopolitan
The most talented Chef Brian Howard makes this kitchen.
He will blow your mind without even trying and you can be sure that the menu will never let you down. Not only is he a great chef but an artist too and uses the plate as his canvas and food as the paint. Masterpieces are made every day. If you are driving, do not look at the cocktail selections, you won't know what hit you till it's too late.
Beijing Noodle No. 9 at Caesars Palace
You will fall in love with this restaurant if authentic Asian cuisine is what you are looking for. Whoever works in that kitchen knows exactly how to put a plate together. If you like your food spicy, don't be shy, let them know and they will do it just right.
American Fish at ARIA Resort Las Vegas
Michael Mina is the ultimate husband. You will want to marry him just so you can watch him cook or heat up oil or flavor fish and everything else this man does in the kitchen. After you eat at American fish, you will know what I'm talking about.
Vegas is not all about sin; excluding what Michael Mina does to your palate that is. There are restaurants that offer great cuisine all over Vegas. Make sure you stop by a few of these restaurants and taste for yourself.