All five of the best places to eat in San Francisco feature dishes made with fresh, local ingredients. In an April 2013 piece written for Zagat food guide, Chef Rick Bayless confirmed this aspect of dining in the City by the Bay. He went on to say that many establishments used the same farms and suppliers, resulting in a uniform flavour across the city. The following locales offer items that stand out to critics and local residents alike.
Budget options that cost $15 United States dollars (USD) and under
The Galley (1401 Valencia Street, San Francisco, CA, 94110; 415-206-1388), in San Francisco's Mission neighbourhood serves basic pub fare. $8 buys the extremely popular French Onion sandwich, while $6.50 purchases a piece of heaven in the form of a grilled cheese sandwich garnished with apples and bacon. Free wireless Internet and a relaxed atmosphere makes diners want to extend their stay. The Galley sits inside of Clooney's Pub, making it an instant hit among local residents. If you are visiting San Francisco on a cheap break then you should consider checking out the Hostelbookers website for accommodation.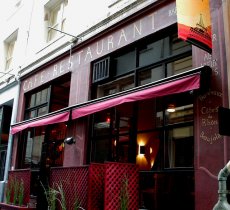 Café Claude image:
osbornb
Café Claude (cafeclaude.com) offers a little piece of France within the San Francisco financial district. Past customers rave about the restaurant's intimacy and staff dedication to customer service. Live jazz performances make this the perfect spot for an inexpensive date or night out on the town. Menu highlights include daily lunchtime specials like Quiche Lorraine starting at $12 and small plates of baked salt cod potato soufflé offered anytime for $10.
Midrange options between $15 and $25 USD
The Plant Café Organic (theplantcafe.com) boasts multiple locations throughout San Francisco, including the Financial District and Embarcadero. Touted as a vegetarian paradise, chefs whip up a variety of tasty vegan and vegetarian selections like barbeque tempeh and crispy duck breast. Delicious veggie burgers and seasonal tasting options round out a well-stocked menu. Dinner plate pricing ranges from $15 for a miso bowl to $23 for halibut or salmon. Past guests exclaim the restaurants allow carnivores and herbivores to dine happy.
There is a two-month wait to dine at Rich Table (richtablesf.com) in Hayes Valley. A 2013 Best New Restaurant finalist in the James Beard competition, unique American cuisine and simplistic décor continue to win rave reviews from diners. Stand out dinner plates include miso-roasted carrots for $20 and spaghetti with goat cheese and mint for $17. The ambiance can be a little imposing at times, so this is not the place to bring young children.
Luxury options over $25 USD

Slanted Door image:
mastermaq
The Slanted Door (slanteddoor.com) is another 2013 James Beard finalist. Savoury Vietnamese dishes placed the venue in the running for Outstanding Restaurant. Located in Embarcadero, patrons emphasize few vegetarian options make this is a haven for meat lovers. In addition to savoury dinner plates like boneless short ribs for $35 and banana leaf branzino for $42, the restaurant features popular cocktail options that cost approximately $11 per glass. This is definitely the place for people watching, with envious bay views and beautiful people packed floor to ceiling. This is another venue catering to a more adult crowd, so parents should leave the kids at home.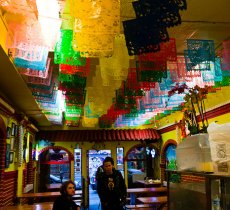 Can Cun Tacqueria image:
maltman23
San Francisco is a city brimming with multiple cultures. Local dining establishments reflect this diversity. An option exists for every foodie at every budget, whether vegan or a meat lover. No matter what type of experience a diner seeks, the City by the Bay is very accommodating.