This article belongs to Travelwise column.
Tiger Airways is one of the more recent entrants into the Australian domestic airlines market. It is an 'el-cheapo' budget carrier flying Airbus A320s to and from Australia's major capital cities.
The airline is part-owned by Singapore Airlines.
In recent months, a number of stories have come to light in relation to the airline treating passengers in an inappropriate manner in relation to schedules, extra luggage and generally treating the passengers as being second-class citizens.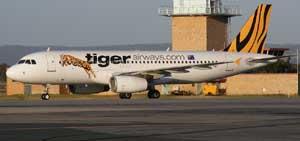 File photo: Airplane-pictures.net
The stories that have come from Tiger Airways passengers in relation to the airline's conduct towards them have not been pretty ones. A number of these incidents have been logged and the problems appear to be continuing.
I would have thought that Tiger's parent company, Singapore Airlines, would have insisted on better standards being applied in relation to this airlines.
At this point in time I will put a 'be cautious notice' on the airline.
Should the problems continue though, I will put a 'do not fly with' advisory on the Tiger Airways.
In short, fly with Tiger Airways if you must but look for better value for money alternatives.
Henk Luf
Travelwise