Marketing via email is one of the quickest, cheapest and most direct ways to contact your customers, and is perfect for smaller companies or those just starting out. It is a simple form of advertising that you can undertake yourself, and thanks to specially designed software, it is easy to do.
Everyone knows how to write an email, but marketing emails need to be different. They should be eye-catching and simple to read, with relevant information and links to your website (or specific pages within your website). There are a range of email software programmes around (dotMailer do a good one), with lots of templates to get you started.
Marketing emails should avoid the 'hard-sell', and instead focus on interesting news items or industry events. Customers are generally much more receptive if they don't feel like they are simply being sold products; your aim is to remind them that you're there should they need you, but not to be a pest! Regular emails are good, and every month or two is sufficient to keep you in your customers' collective consciousness, without being overbearing.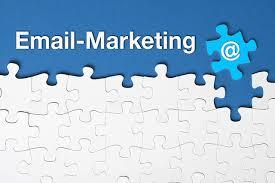 Image from flickr
This is where the joy of automated email marketing comes in! When you are busy running a company, writing marketing emails is probably the last thing on your mind, and can be easily forgotten. In order to maintain a regular flow of monthly emails, you can compose your content and format throughout the month and then set your finished email to be distributed at a specified time and date. This takes the pressure off you; after all, who doesn't want one less thing to remember?!
One of the most important elements of any marketing email is the links that are contained within it. You need to give readers a quick and simple way to get to your website, so consider using a few links dotted around the page. Make them clear to see by making them look like 'buttons', or use text such as "See our new range" or "Click to view" to make customers aware of where your links are. Get your layout and content right, and you should see an increase in traffic to your website.