Most bettors check out
VIP betting sites
, hoping to become some of the world's top gamblers. Very few, however, make it to the pinnacle of gambling fame. Read on to learn about some of the greatest legends in sports gambling.
Joe D'Amico
Joe D'Amico is a well-known collector of sports memorabilia. He also operates called AllAmericanSports.com. His main source of income, however, comes from being a professional gambler. D'Amico worries gambling can have a nasty influence on players and coaches. He also knows players seen with professional gamblers can suffer severe damage to their reputations. He's such a stickler that when his athlete friends visit his hometown of Las Vegas, he refuses to take their calls or join them for dinner.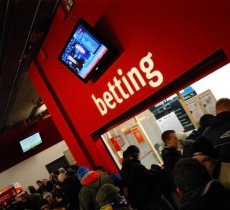 Photo credit: Crystian Cruz / Foter / CC BY-ND
Despite his refusal to hang out with players and coaches, he does cajole the occasional groundskeeper at a stadium into telling him which players are injured. D'Amico does this because he hates to lose. After a big money football game turned south in the fourth quarter a few years ago, D'Amico smashed one of his Mickey Mantle baseball bats. His biggest piece of advice for winning is to avoid getting greedy by betting too much on too many games. Instead, he says, "pick your spots."
Billy Walters
At this point, many bookmakers in Vegas are afraid to take Billy Walters' bets. By betting on football and basketball, Walters has accumulated wealth in the hundreds of millions of dollars. In a rare interview, he shared he made $3.5 million betting on the 2010 Super Bowl. For this reason, people often spy on Walters and even dig through his garbage cans trying to discover his secrets.
Walters is a native of Kentucky and lives an incredibly reclusive life. He's worked with the same staff members for 30 years, but they've never met one another. He also never uses their real names, calling them code names like "Wolfman" and "J-Bird." In the 1980s, Walters joined a syndicate called "The Computer Group" that revolutionized gambling by performing statistical computer analysis. He's been indicted in Nevada four times on charges like illegal bookmaking, money laundering and organized crime, but none of the charges have ever stuck in court.
Bob Voulgaris
Before 2004, Voulgaris was a millionaire thanks to a lucky streak that helped him win 70 percent of the bets he placed. Most professionals consider anything above 55 percent to be acceptable. Because of Voulgaris, bookmakers started changing the way they set NBA halftime totals in 2004. Voulgaris started to lose and decided to develop his own statistical prediction model.
After hiring someone he simply calls a "math whiz," Voulgaris created a program that he called "Ewing" after the NBA player and Georgetown graduate Patrick Ewing. The Ewing breaks every NBA game into its smallest unit: the possession. Voulgaris designed Ewing to predict the number of possessions in each game and then to try to determine each possession's outcome. Ewing also assigns two numbers to each player: one for offense and one for defense. The program constantly shuffles the numbers according to which players are guarding one another.
Despite the huge winnings generated both by Ewing and by Voulgaris's sixth sense, Voulgaris has flirted with the idea of ending it all and buying an NBA franchise. He thinks that his in-depth knowledge of the players — which he has gained from programming the Ewing model — along with his quantitative know-how, could make him the next Billy "Moneyball" Beane of the NBA. He looks up to Tony Bloom, a British gambler who won enough betting on soccer that he purchased the Brighton F.C.
Imagine being such a gambling legend that your bets made bookmakers rethink their lines. All of these gamblers started out small before finding major success in sports betting. You don't have to hire consultants right away if you want to be a successful gambler. However, if you do well for yourself, you may have to start calling for resumes.
About the Author: Gary Brightmore writes a sports column, profiling both local and national sports figures. He also is an amateur sports bettor. He suggests you click here if you're looking for some new sports betting sites.