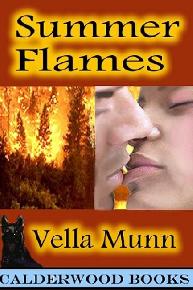 Book Cover
Title: Summer Flames
Author: Vella Munn
Publisher: Calderwood Books
ISBN: # 978-1-934614-02-0
Genre:Contemporary Romance
Themes: Fire-fighters, forest fighters, teachers

Summer Flames is an excellent contemporary romance novella written by Vella Munn. What immediately drew me to reading Summer Flames was the title of the book. Seeing the cover added extra spice for me.

The characters depicted in Summer Flames were captured very well. The story and plot were very descriptive throughout the entire story. It consists of 222 pages and was edited by Joy Calderwood. The cover design was created by Jennifer Macaire.
I wished the story was a little bit longer, but other than that, it was an easy read. When I think of "summer flames," I often think of two individuals in love through heat and passion, and subsequently their romance ends in the moment of fire. I think that Vella did an excellent job capturing this essence which is totally fictional in her book.

Sometimes, in real life, flames do exist in some relationships, either by parties caught by fire of passion or flames of heart breaking moments.
Summer Flames is indeed an e-book that you want to have in your collection. It will be available during the fall of 2007. Thank you for sharing such an outstanding craft with me and I wish you much success!
Five Stars Rating
Reviewed by Afrika Midnight Asha Abney for Calderwood Books
www.authorsden.com/afrikamaabney