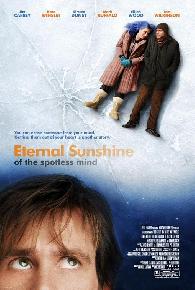 Eternal Sunshine of the Spotless Mind
Cast: Jim Carrey, Kate Winslet, Kirsten Dunst, Elijah Wood, Mark Ruffalo, Tom Wilkinson.
Director: Michel Gondry
Running Time: 108 minutes
Rating: 9/10
Official Website: http://www.eternalsunshine.com/
Oh, wouldn't life be grand if we could simply erase each and every painful experience from our minds; if we had the power to eliminate an entire relationship from our memory. Yes, it's a mouthful, but Eternal Sunshine of the Spotless Mind truly has to be one of the most thought provokingly wonderful films of all time. Film titles can often prepare you for what viewing pleasures you are about to experience, and this film is as deep and unpredictable as its suitably allocated name.
As the tale of fate goes, it is by complete and utter chance that lost soul, Clementine (Kate Winslet), and equally lost soul, Joel Barish (Jim Carrey), meet one rainy day when Joel makes one of those wonderful on the spot decisions to ditch work and jump on the first train that will take him in the other direction (hey, we all have those days!). Their exquisitely complicated and eccentric characters are so raw; the true example to back up the myth of opposites attract. However, the fairytale takes a twist when Clementine consults Lacuna Inc. to erase Joel from her life, at which point Joel sets out on a race against the mind and technology. His only hope is to believe that love will prevail.
The success of this film does not originate only from the fantastic cast, but also by the unique cinematography. This film catapults you into an almost Alice in Wonderland type atmosphere; all achieved by combining a number of creative camera angles and lighting. This element takes the viewer along for the ride; experiencing emotions of vulnerability, sadness, excitement, anxiety … which are all shared with the two lead characters.
This film will surely convince all viewers that Jim Carrey should throw away his 'comedian' cap and glue his 'serious actor' cap firmly on his scalp. He may irritate many who are anti cheesy Hollywood comedies, but hopefully any previous irritation doesn't deter anyone from seeing this film!
After everyone watches Eternal Sunshine of the Spotless Mind (and masters the correct title!), they should ask themselves this question; if I could, would I erase all traces of painful memories? And if I did would fate would take its course regardless, and every single erased element somehow make its way back into my life?
Di Timmins