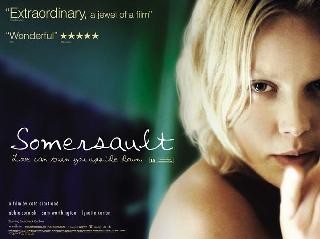 Theatrical Release Date: 16 September 2004
Cast: Abbie Cornish, Sam Worthington, Lynette Curran, Leah Purcell.
Director: Cate Shortland
Rating: 7.5/10
Running Time: 107 minutes
Have you ever done a somersault? The momentary disorientation and nausea is frightening, yet somehow exhilarating at the same time; you just always know deep down you will land back on your feet right where you began. You will always end up home.
If you're afraid, or possibly not flexible enough, to conduct this exercise yourself; let Heidi (Abbie Cornish) do it on your behalf. Somersault, another fabulous Australian film written and directed by one of our home favourites, Cate Shortland, takes you on Heidi's frightening journey into self discovery.
Being caught in the act with her mother's lover, of course by none other than mother dearest herself, she flees her home town to embark on a journey of drugs, alcohol and promiscuity. She is completely alone on the open road. Despite Heidi's rebellious ways, Abbie Cornish conveys a certain element of innocence in her portrayal of this character; an innocence which captivates the audience and enhances their response and understanding of her predicament.
This film sure is one confronting emotional rollercoaster. While it may not be an amalgamation of various sub-plots, I am sure every viewer will find the main ingredient is more than enough to have on your plate at the one time! The message of the film is that even if you learn your lessons the hard way, just remember home is always waiting for you when you tire of the ride.
The major impact of this film is the thought provoked aftermath; reflect back on what you have just viewed and see what you make of the title. I dare say the individual response from each and every one of you would vary.