Gods & Monsters Starring Ian McKellen, Brendan Fraser.
Written & directed by Bill Condon (based on the novel by
Christopher Bram).
Genre: Drama / Biopic.
Released: 1998.
Running time: 105 mins.
Rated: R (American rating for sexual material and language).
In recent years I've become a really big fan of Ian McKellen. Yeah, I know, me and the rest of the world, right? It's inarguable that the man is a consummate actor; with every performance he gives, he transforms himself. I'm not talking a De Niro in Raging Bull kind of transformation, though. I'm talking a much more subtle one than that, with the adoption of mannerisms and tiny nuances of character that really distinguish each one of McKellen's performances. The guy's just great. Plain and simple.
But back before X-Men and The Lord of the Rings came out, I (ashamedly enough) didn't know who McKellen was. I'd of course seen his work in various films, but for whatever reason he'd managed to slide under my radar. Of course, once I'd heard he'd been cast as Magneto in X-Men, I wanted to find out who this guy was and what he was capable of. I rented two films; Apt Pupil, the film McKellen made with X-Men director Bryan Singer in 1998, and Gods and Monsters.
I can't remember very much about Apt Pupil, other than finding it under-whelming. But Gods and Monsters? Well, now. That's a completely different story.
James Whale was the director of The Invisible Man and Frankenstein, amongst many other films, and a Hollywood big shot in his time. By 1957, however, he'd stepped back from the limelight and lived a quiet life. Gods and Monsters relates the final few months of Whale's life, and the friendship he enjoyed with his gardener, as played by Brendan Fraser.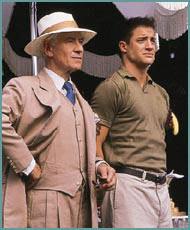 Gods and Monsters is a film that's witty, confronting, and emotionally devastating. It paints a well-rounded portrait not only of James Whale, but also of Clay Boone, Fraser's character (what's probably most surprising is how well Fraser manages to hold his own against talent such as McKellen's). The friendship that develops between the two men is quite a touching one, especially given the great divide that exists between them on a number of fronts, and by the end of the film you have a great feeling of the respect and affection that exists between the two of them.
But at the same time you're also given a window into a man's mind as he faces his final days; lonely, broken and all but forgotten, Whale dips in and out of flashbacks, his perception of past and present horribly blurred. Gods and Monsters, for its extravagant title, is really all about what it means to be human, and all of the frailties that come along with that.
So if you're a long-time, stalwart fan of McKellen's – or simply a novice appreciator such as myself – and you're yet to see this film, I can't recommend it highly enough. McKellen might not be playing a wizard in it, but he still manages to weave his magic.
Next week: Action!