Spring is in the air! The weather is heating up and summer is just around the corner. No worries because your body is beach perfect year round! Maybe in a perfect world… The reality of this statement is that life happens! Who has that kind of time? The most important thing to do at this point ladies is to remain calm. The temptation to undertake the newest fad diet will no doubt be knocking on your door. Be prepared to counteract this urge by planning for the upcoming season. Yoga instructor and health writer Coleman C takes us through some steps in getting bikini fit conjunction with LA Fitness.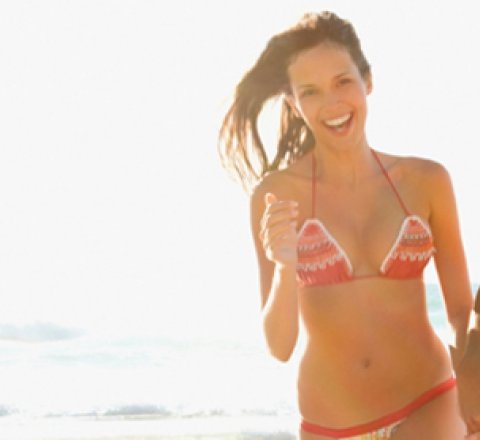 The Perfect Start
So maybe you've put on a few pounds. Ok, it happens, we needed something to keep us warm throughout the winter right? Don't fret, just vow to start to transition into the new you immediately. The sooner you get started, the better you will look. Whether you're trying to keep up with that new year's resolution or you're making this season the time to unleash the 'new you'. Heat this summer up with a little cardio!
Cardio is definitely the most effective approach for calorie burning. This particular type of exercise has seen significant development over the past few years. The world of exercise has transitioned from mundane and arduous to fun and effective. Many exciting classes such as zumba, body pump, step, pilates, body combat and yoga are offered at a variety of gyms and health facilities to get "bikini fit" – there is bound to be one close to you. Set a goal for a weekly workout routine to exercise at least five days a week. For increased fat burning, strive for consistent sixty to ninety minute workout regimens.
If you are in need of a merely a more toned body or just shedding a few pounds adding yoga to your daily routine could be quite valuable. The benefits of an effective yoga practice include a boost in metabolism, increase in energy and self confidence. Yoga can also improve the digestive system driving it to perform at a more effective rate. A good yoga routine can also reduce the bodies' toxins which may also result in a significant weight loss. Practicing yoga can also help with back pain and is an exceptionally effective stress reliever. When the body is put in a stressful situation, it can often cause fat stores to accumulate in unwanted areas such as the midsection or waist. The practice of yoga can help eliminate these factors thus making you look and feel like the real, healthy you.
Away From the Gym
In addition to toning your body it's also important to revamp your diet. Summer is the best time of year for fresh fruits and veggies which also provide the body with various antioxidants. When you feel the urge to snack, select a lower calorie alternative such as these. Avoid high fatty foods or meals that are cooked via oil agents. If you enjoy cooking at home, try seasoning with 'window' or 'garden grown' herbs rather than spices containing excessive sodium. Gardening is a fun summer hobby that can help you reduce your calorie intake when you enjoy the 'fruits of your labor". It is also important to stay hydrated! Water should always be your drink of choice as it will also assist the body in flushing out broken down fat stores or ketones. Remember when you're on holiday that alcohol choices such as beer are infamous for bloating the body.
One of the most important factors to bear in mind when preparing for the summer is selecting the right wardrobe. Whether you're right on track or just now getting in the right direction, don't be afraid to indulge in some retail therapy. Nothing is less flattering than an ill-fitting swimsuit. Accentuate your good features and evade the temptation of trying to squeeze into your spring break get-up from 2009 (or earlier!). Remember, your body is beautiful and unique unlike anyone else's. Embrace your inner goddess and own up to those curves! Now grab a towel and some SPF, this is going to be your best summer yet!