I'
ll make no secret of the fact that I'm a huge fan of Canadian
punk-rocker Avril Lavigne. Her 2002 hit Complicated left a huge
impression on me, and her other hits, Sk8er Boi, "Nobodys Fool," etc.
kept me entertained for more than 6 months. Let Go" still remains one
of my favourite ever CDs alongside Delta Goodrem, Atomic Kitten etc.
Even as I write, Im listening, via MTV, her latest hit, Dont Tell Me.
Itll come no surprise to you then, that Ill be the first guy you see
outside the CD store to buy Avrils latest album, Under My Skin, come
May 25th. If it produces even half the quality of Let Go" then itll be
well worth the $13.49 Amazon.com is selling it for.
Now,
Avril has come under much criticism for being a poseur and manufactured
hard-pop rather than a genuine punk-rocker. But who are we, to judge
what is manufactured and what is genuine anyway?
Whatever it
is, Under My Skin" makes a brilliant listening as I found out, when I
listened to a special preview released on MTV.com approximately a week
before it hits stores in America and worldwide.
Consisting of
12 tracks, it lasts about an hour, and it sounds more grown-up and
explores territories of more experienced punk-singers than the sounds
of Let Go" which was after all written when Ms. Lavigne was 16. Now
shes 19 and we have every right to have high hopes of her latest
release, despite her feud with Matrix (who wrote her hits Complicated
and SK8er boi).
What youll notice is that the Matrix is
absent from this album, the songs are written either by Avril or her
songwriting team, according to a recent article I read. And she finally
appears in a special video on MTV playing a guitar, next to one of her
band. This should end endless criticism that she cant play a guitar.
Now,
what made Avril so special? The likes of her compatriots Alanis
Morrisette and Simple Plan have long been on the punk-rock arena, but
while achieving stardom, have yet to achieve the worldwide status that
Complicated powered to. Quite simply, Let Go" enabled young women,
unable to identify with the likes of Britney Spears, a voice of
defiance in music.
But onto the album: the first song Take Me
Away gave me the first impression that Losing Grip gave me. Hard on
guitar, it makes full use of Avrils voice and that of her bands.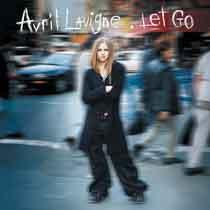 Avril before evolution: "Let Go."
Avril before evolution: "Let Go."
The
19 year old from Napanee (population: 5000) has certainly grown a lot
as her next song, Together proves. It has an uncanny mature feel to it,
and it showcases Avrils maturity despite her young years. I really like
this, due to its mellow sound.
Now, you probably have heard Don't Tell Me, song no. 3 of the album. It
was her first released single since Im With You and to me, at first
listening, it sounds like a good mixture of Losing Grip and
Complicated. Its definitely one of the better songs of the first half
of 2004 and possibly the best song of her album. Someone give her a
Grammy!
He Wasnt starts off with a sound that reminds me of
the likes of Busted or Simple Plan, and reflects on teenage angst and
Monday blues. It isnt bad, in fact, its above average, but we have a
right to expect more of Avril, despite it being rather catchy. Itll
probably receive as much radio playtime as Avrils fourth single, Losing
Grip.
Whilst How Does It Feel reminds me of rock ballad.
It utilizes Avrils voice fully, but the instruments on it, make it feel
rocky. My Happy ending sounds awfully like her previous song, Things
Ill Never Say (from "Let Go"). I like it, its catchy and its tunes
remain in my head long after my first listening. It reflects (I think)
on a boyfriends friends reaction to her. But she does use shit quite a
bit in this song. Its far from anything to do with faeces though.
Now, onto song number seven, Nobody's Home. It sounded good, and
resembles nothing. It explores teenage loneliness and having no place
to go and finding reasons to life. It goes into uncharted territory of
Avril. This girl will do very well there.
Number eight is
Forgotten and it starts off with a piano (I think) and it seems Avril
is trying to do an Amy Lee impersonation at the start. The song (as
usual) reflects screwing-up of something. But at least the lyrics arent
bad. It reflects Avril standing up and being strong. Its one of the
more forgettable songs of the album and if you do buy Under My Skin,"
it wont be the song youre anticipating. I skipped this song after
listening to it for less than a minute and a half. At least, the chorus
isnt bad. Who Knows start with the usual yeah-yeah-yeah and reflection
on a guy that weve become used to in songs by teenage singers. It
explores looking for something more in a brand new day. The tunes are
nice in this song, and although it doesnt in any way sound like 2002s
Anything But Ordinary, it somehow reminds of it. Weird.
Were
almost at the end of the album with Fall to Pieces and it begins with a
guitar melody that sounds like Jewel Kilcher, even though Avril is far
from her. The song is faster than usual pop (after all, she is a
punk-rocker). I like it, about 4 stars out of five is what this song
deserves, if Im anyone to judge.
Avril after evolution: "Under My Skin."
Avril
after evolution: "Under My Skin."Then, we move on to Freak Out, which
starts with the (yawn) usual guitar. Ok, fine, she is a punk-rocker. It
talks about Avril trying to lead her life and sleeplessness from
freak(ing) out and letting go. This song is worthy of a place higher up
her track list than near the end. Its a good reflection of the
transition between girldom and womanhood. A better piece than Britneys
2001 hit Not a girl, not yet a woman definitely.
Finally,
the end with Sleep Away. At least it starts differently from most of
her songs. The start (at least) is slower than the majority of her
songs. Its a nice ending, at the very least.
Overall, this
shows Avril growing up, and it's a worthy album to buy. Its not as loud
as the likes of Linkin Park or Metallica, but it offers teenagers a
different option, from the loudest rock acts and the likes of teenage
sugar-poppers Hilary Duff (whom Avril is having a media feud with). Its
like a transitional stage between bubble-gum pop and tough rock. Thats
why I believe the album will appeal most to girls the age of 14-17 (and
of course, your dear executive editor here).
If asked to
compare though, I'd vehemently back 2002s Let Go" as to Under My Skin."
By the look of things though, Avril Lavigne will have a much longer
life-span than the majority of punksters. One helpful tip, she should
change her stylist though. Anyone that suggests painting some reddish,
freakish, thing near your eyes ought to be sacked!
Kristiano
Ang, is the executive editor of Vainquer Teens, the international
magazine for the worlds youth. He is an author on the subjects of
positive-thinking, popular culture, sports, and fantasy. Vainquer Teens
will be out in June. He may be contactable via this website.