Let's enjoy some more music by introducing you another new unknown band. This time the Anglo-Welsh-American psychedelic rockers have a brand new album, "Fragile Diamond", out October 16th 2012.
If psychedelic rock is your cup of tea, then you must take a taste of what Howl Griff have to offer you. The band are a mix of Welsh, English and American, and taking elements of rock music that are foundational from each country and blending them together to make a incredible unique sound that can only be described as sensational. The band have already written a full Welsh language album, which gained fantastic critical acclaim, and they've also penned and recorded a well-received English album too, entitled The Hum, which got some brilliant praise from fans and press alike. The guys are back with an arsenal of summer sounds that are set to burst through the speakers and paint the world in a brighter colour.
Howl Griff have already gained multiple radio plays, spanning the airwaves mastered by BBC 6Music, BBC Radio Wales, BBC Radio 1, Radio London and the noted Californian station KCRW too.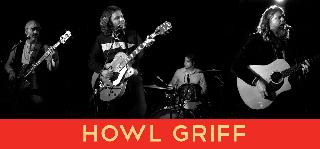 What does the new album hold? Well, it's full of stunning light melodies, wrapped in enchanting narrative sung wonderfully by Hywel Griff, and jangly guitars that hint at 60's and 70's nostalgia. This anthology of tunes of anthemic proportions is exactly what we've been missing!
Lead single 'Fragile Diamond' sees the band swinging melodically through a song that examines the fragility of life against a backdrop drenched in lush three-part harmonies. With lyrics inspired by a family member's miracle baby, it has already been listed as a BBC Radio Wales "Single of the Week".
Watch the video for 'Fragile Diamond', with an absolutely legendary man in a purple suit dancing like there's no tomorrow right here.
Howl Griff are:
* Hywel Griff, lead vocals and guitar
* Gary Parkinson, guitar and backing vocals
* Steve Kennedy, bass and backing vocals
* Nick Moore, drums and percussion
Catch them live:
* Thu 20 September, LAUNCH PARTY, The Albany, Great Portland St, London
* Sun 23 September, Earl Haig Memorial, Whitchurch, Cardiff
* TBC October, Manchester & North Wales
You can learn more about them here.