3-Hour Figure World Championship 2004
Auto racing has always been an extreme sport by nature, but back
in 1945 after WWII someone got the brilliant idea to run a figure 8
race. The original track some say actually had an overpass; the cars
did not cross each others paths. It is believed by most auto racing
historians though that the first actual figure 8 race where cars did
cross each others paths occurred at the small 1/5th mile Indianapolis
Speedrome.
In those days the track was dirt, the cars were jalopies, many straight
off the street. Today the track is paved and the cars are exotic,
high-powered beasts and the annual 3 Hour Figure 8 World Championship
has become an Extreme Sport all of its own. The rules are few, the
competition; the best of the best in figure 8 racing. Drivers come from
all over the country to race what many say is their Daytona 500." It
doesnt hurt that the race pays the biggest purse in figure 8 racing
either.
Back in 1977 the Indianapolis Speedrome began running
the 3 Hour World Figure 8 race which was won by Indianapolis driver Jim
Fox. Little did they know then the race would become what it is today.
The 2004 version had some 56 cars and driver combinations from Indiana,
Ohio, Michigan, Kentucky, Florida, California and Washington, bringing
some of the toughest figure 8 drivers together to see who could take
home the $10,000 check and extremely large trophy and also wear the
title of Figure 8 World Champion for a year. The fans get the biggest
deal though as $25 buys a ticket for all three nights of action.
Things got kicked off on Thursday with practice. Friday they had the 5
qualifying heat races and then Saturday, the big race. Joel and Bill
Cohen, owners of the Indianapolis Speedrome promised a good show, and
as usual they kept their promise. And drivers with names such as
Leonard Basham, Raymond "Unconsious" Johnson, Rodney "the Rocket"
Sizemore and a host of others put on a show that is hard to forget.
Bruce Tunny (r) and Curtis McMurtrey (l) battle on the opening lap
As the cars took the green flag for the 28th Annual 3 Hour World Figure
8 Championship fireworks lit up the sky behind the back straight stands
and a full house roared just as loud as the 28 starters cars heading
into turn 1. The 3 Hour Rush was on! To get an idea of what it was
like, imagine running a red light every 10 seconds for three hours
straight and not colliding with the other traffic. You have to be
smooth and time the crossover perfectly every lap. As said above the
rules are few, but one rule for this race is that 28 cars start the
race, as a car pits for repairs or whatever reason another car enters
the track!
This means you also need to keep an eye on who is on the track, you
have to know if they are an aggressive driver or not, whether they will
give you a break or try to break you and make you decide to let up.
Watching these guys run through the crossover, squeaking between cars
and not touching the brakes is just unreal. Most of the drivers have
driven figure 8 cars for many years and their skill is unbelievable.
Over the roar of the engines you hear the crowd oohh and ahhh at the
near misses. The full house crowd is rarely quiet with the action that
is non-stop, even under caution. There were no less than three
collisions during cautions this year.


Mark Tunny #17 chases Curtis McMurtrey
Pole sitter Bruce Tunny took the early lead followed by Curtis
McMurtrey. Bruce had won the 2000 Figure 8 World Championship and
Curtis won it in 2002, Bruce had won 5 Late Model track championships
while McMurtrey is the 2004 Late Model track champion. The battle was
on! Not far behind was Bruce Tunnys son Mark, his brother and former
winner Bill Jr. and nephew Ben. Mark and Ben both ended up sidelined
due to rear end failures and Bill Jr. was knocked around like a
pinball. The last two hits were from Jeff Shackleford, who couldnt
avoid the spinning car and knocked the front end out of Bill Jrs. car.
The wreck ended the night for 2001 champion Bobby Douthitt who had
hoped for a solid finish. Also out early was fan favorite Rodney the
Rocket Sizemore. Rodney and his family have never been able to bag the
big one". The "out -of -towners" havent had too much luck either. Don
Eslick of Washington tows out here every year only to head home without
a win. It isnt for a lack of trying. In 2001 Don had the misfortune of
rolling over in turn 1. They towed the car to the pits and he repaired
the front end and came back out to rejoin the race. This year he
started 16th and finished 23rd.
John LaValle #87 of Florida has a close call.
The battle this year though was between Bruce Tunny and Curtis
McMurtrey who swapped the lead numerous times on the track and when
pitting. As the clock drew down to minutes Curtis was right on Bruces
back bumper for a restart. As the two headed towards turn three Curtiss
car suddenly slowed. He turned straight into the pits and did not
return. Bruce suddenly found himself alone at the top, all he had to do
was keep his nose clean, and pray his car didnt suddenly develop a
problem. Hed been bitten before in this race, his brother Bill Jr., his
son Mark and nephew Ben were all sitting in the pit stands watching
him. Suddenly, with about 10 minutes to go the familiar number 17
pulled back on to the track, it was Bruces son Mark! Mark decided that
even though his car wasnt running right he wanted to be out on the
track if and when his father won. Mark managed a few laps and then
pulled off to a safe area where he waited out the last few minutes and
got a front row seat as his father won his second 3 Hour Figure 8 World
Championship.
4 cars criss-cross through the crossover while leader Bruce Tunny enters turn 3
After taking the checkers for his second win in Figure 8s biggest race
Bruce Tunny stopped at the flag stand and was presented the checkered
flag. He began a victory lap and suddenly turned left, pulled up to the
backstretch wall nosed first. There was silence, then the roar of a
single engine, then tire smoke poured out in what many think was the
longest burnout in history by a late model stock car. When he was done
the tow truck had to deliver the car to victory lane as both rear tires
were flat.
Bruce in his normal quiet way accepted the spoils of
victory, then as he spoke to the crowd he said this is my last race, I
want to help my son Mark in his career and I cant think of better way
for it to end." He had raced 21 years and now it was time to hand the
steering wheel over to his 19-year-old son who had graduated from high
school just a few months ago. Later Bruce stated it was hard keeping
two cars running, almost like having five cars. Hes right because on a
regular race night they run both the figure 8 and the oval.
Many teams make major suspension changes between the heat race and the
two features, so its a lot of work to set the cars up for each race.
That does not include repairs. Meanwhile Mark is grateful to his father
for giving up the driving duties to help him. Mark said the past two
seasons have been a learning experience and his father is the one who
led him to 3 victories last season, 3 in figure 8 this year and 1 oval
win. He thinks he can win even more races with his father in charge in
the pits. Bruce finished the season with 12 feature wins, 3rd in points
and goes out the 3 Hour World Champion Figure 8 Champion!
Bruce Tunny with family and crew celebrate his final win. Not a bad pay day either!
Bruce completed 486 laps, 972 times through the crossover. Margin of victory - 10 laps.
Second place went to Jeff Shackleford
---
more in Extreme sports
The extreme sport you never knew existed
Gone are the days of straight and low model helicopter flying. In the past few years this hobby has evolved into a popular sport, and is now considered a challenging art.
Jae Journal - The Battles Wages On
Hello everyone and welcome to the journal. I just had a birthday, the Michael Jae Project will be back on in Lake County, and most importantly, the Sox defeated the Cubs during the first of two meetings this season.
The Real Ozzie
Yes, Ozzie, he's the man. Finally an Ozzie that America can fear. Forget about Ozzy Osbourne. The man looked like a special education reject with that damn reality show of his. And the last album, Down to Earth should have been called Flung to Mars, because it sucked big time. You would think putting musicians like Zakk Wylde, Robert Trujillo, and Mike Brodin would make magic, but instead it was kind of like the time Geraldo Rivera opened Al Capone's secret vault, an empty room. But with Ozzie, you can count on one thing for sure. He will always say what is on his mind no matter what. He doesn't give a shit about who gets offended, and I believe that is a great quality in a person. I respect Ozzie. I liked him when he was a player, and love him as a manager. Finally, the White Sox have someone who they can be proud of in the dugout.
The winds of Mother Nature feed our passion to make ever lasting memories
It was about 12:30pm Easter Monday up at Willow Beach, Lake Simcoe, Ontario, Canada. Not much wind, but building to about 15-20km/hr north easterly. It's foggy, so the visibility on the distant shoreline is gone. Nothing to be seen in the distance as the grey ice and patchy surface disappears into the fog. A few runs with my kite and skis offshore to check out the conditions left behind from a season of wind blown refrozen ice. The occasional piece of soft melting ice jutting from the surface was left between the occasional patch of slush/snow. Farther in the distance less and less snow patches yielding to a sold grey ice, now with an ever so thin patch of surface water from the recent warm temperatures.
Bungee jumping: Taking the plunge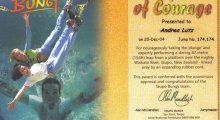 December, 20, anno domini 2004 was the day I finally put into practice a plan I had had for several years already: to do a bungee jump. Being in New Zealand, the paradise for tough adrenaline junkies, I felt that the setting was just right. There was only one problem: I am naturally a terrible chicken. Therefore, I made sure there was no way for me to bottle out again. I told several friends about my plan, and one of those friends even came along with me to perform a jump himself.