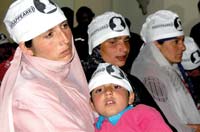 Parents of Disapeared Persons releasing a report about findind of nameless graves in Kashmir
Sareer Khalid
Srinagar, April 06: A few days after one thousand nameless graves were found in Indian Administered Kashmir(IAK),noted human rights defenders formed "International People's Tribunal on Human Rights and Justice" to probe the human rights violation in the region.
"The Public Commission on Human Rights, a constituent of the Jammu Kashmir Coalition of Civil Society (JKCCS), with the support of other groups and individuals, announces the formation of the tribunal in Indian Administered Kashmir "said Pervez Imroz, one of the four conveners' of the rights body. Addressing a press conference here on Saturday Mr .Imroz ,whose Association of Parents of Disappeared Persons (APDP) recently in a report revealed presence of around 1000 nameless mass graves in north Kashmir, said "This Tribunal goes beyond condemnation. It initiates an international process that looks into complex, systematic, and institutionalized repression in order to engage global civil society in investigating crimes against humanity in Indian-administered Kashmir. This process will inform struggles of Kashmiris for human rights and justice."Accusing all the Indian institutions for strengthening of its "oppression and suppression" in Kashmir Imroz said that "The Indian mode of oppression and suppression in Kashmir is systematic. All institutions including the judiciary have become a part of it". He said that the situation of the region was demanding for a tribunal "which would help in making the Kashmir truth known to the civil society leaders and the international community".
While limiting its primary investigations to Kashmir and selectively to Jammu and Ladakh, divisions of the state, the tribunal will hold its investigations and hearings in 2008-2009.
Jammu and Kashmir is divided between India and Pakistan and claimed by both the countries in full. Kashmiris demand right to self-determination and India is facing an armed resistance in Kashmir where it has deployed 700,000 troops .The no of Gun yielding youth recently released by Indian authorities is around 400.Around 100,000 people have been killed in twenty years of ongoing conflict while 10,000 people are reported to be missing in the custody of Indian army and other state forces.
"It is unfortunate that over 500,000 troops were stationed in Kashmir to fight some 450 odd gun yielding youth "said Advocate Mihir Desai, a practising lawyer at Indian Supreme Court and another convener of International People's Tribunal on Human Rights and Justice. While making a comparison and questioning the presence of such a huge Indian army in IAK the noted lawyer said that "In Chhattisgarh (one of the Indian States) only 2500 paramilitary CRPF personnel are deputed to fight around 5000 Naxalites(local militants)," .
Another convener of the tribunal, noted Indian journalist and the human rights defender Goutam Navlakha said that "If cases of human rights violations by troopers go unheard, talking of normalcy becomes a sad joke. The principle demand here has always been the right to self-determination."Navlakha further said that "Being an Indian, it is of even more concern for me because it is the Indian troops and paramilitary troops who are involved here (in IAK),"
Terming the fact finding mission of the tribunal as a "gigantic-task" he said that "The tribunal after its fact finding mission will put pressure on the Indian state and expose to the international community, the human rights violations it carried from time to time," .
Another convenor of the tribunal Dr Angana Chatterji, an associate professor of anthropology at the California Institute of Integral Studies, while addressing the media said accused India of being involved in genocide in Kashmir."Indian human rights record in Kashmir is dismal. It has committed genocide in Kashmir ".He said and urged the people of Kashmir to come forward and help trace human rights violations in the region. Explaining the need for a tribunal Chatterji said that "India, which is emerging as an emergent superpower, argues for a seat on the United Nations Security Council. We seek accountability under provisions of the Constitution of Jammu and Kashmir, Constitution of India, and International Law and Conventions, to insist upon reparations, justice, and self-determination". Noted Kashmiri journalist and human rights defender Zahir -ud-Din, who also spoke on the occasion, is another convener of the tribunal.
Profile of Tribunal Conveners:
Dr. Angana Chatterji, Convener. Dr. Chatterji is associate professor of anthropology at the California Institute of Integral Studies.
Advocate Parvez Imroz, Convener. Advocate Imroz is a human rights lawyer and founder of the Jammu and Kashmir Coalition of Civil Society.
Mr. Gautam Navlakha, Convener. Mr. Navlakha works with the Economic and Political Weekly and is a human rights defender.
Mr. Zaheer-Ud-Din, Convener. Mr. Zaheer-Ud-Din is chief editor of Daily Etalat and vice president of Jammu and Kashmir Coalition of Civil Society.
The Tribunal Legal Counsel and Liaison are:
Advocate Mihir Desai, Legal Counsel. Advocate Desai is practising in the Mumbai High Court and the Supreme Court of India, and co-founder of the Indian People's Tribunal.
Mr. Khurram Parvez, Liaison. Mr. Parvez is programme coordinator for the Jammu and Kashmir Coalition of Civil Society.
Meet the author at :sareerkhalid@gmail.com
Sareer Khalid
,
The Cheers News
TAGS:
World-news
Sareer Khalid