Light Of The Quasar: Review of Killing Heidi Concert/Decline Of Live Music
Traralgon, Victoria, Australia, a night at the Inferno and I'm
privileged to see what feels like the last of a dying breed - live
musicians with passion for their work. The band is Killing Heidi,
promoting their new single from the Spiderman 2 soundtrack, I Am. Is
this the only way a band can get noticed on Australian television? By
being in a film clip for a blockbuster film? This song is not even on
the international version of the sound track and is only on the
Australian version so it gives locals a reason to buy it.
For a
gig that featured an effervescent and popular group that has been
established in the industry for a few years now, the size of the crowd
was a bit of a disappointment. The door charge was reasonably priced,
so it wasnt like punters (audience) couldnt afford it. I guess they
arent the it band of the moment, like for example, international
success Jet (who played there recently with a packed out crowd and a
very expensive door charge).
To describe their music would be
to call it poetically rocking. This band performs stadium rock out
songs just as well as ballads. Despite the small turnout they smacked
their way through older songs in the first half and focused on the
newer album present and brand new release Killing Heidi for the latter
half.
The band was discovered in Violet Town, about 150
kilometres north east of Melbourne, by the national youth radio network
Triple J (government owned). This is approximately the same distance to
Traralgon. It was plain that those who attended were big fans. The band
really appeals to non-city audiences as they are from a town much
smaller than the one they played in this review. As a bit of trivia for
you, the lead singer and guitarist are brother and sister.
This
is a band that has definitely evolved with time. I caught them at
Melbournes Big Day Out about seven or so years ago and they sounded
terrible, the vocals were weak and the instruments sounded like they
would have been better off bashed against the floor.
I had the
chance to see them again at Traralgon about five years ago and frankly
despite having a ticket, I couldnt be bothered (that may or may not
have been for other reasons).
Now they just rock, its as if
they have found a new confidence and focus that lets their performances
shine through the darkest corners of a room. If you ever get a chance
to see them in action or get a hold of a disc, do so.
During my mid to late teens this region of Victoria had so many bands
coming through on tour that I actually had trouble finding the time and
money to catch them all. The local University and concert hall were so
busy that the tours flowed over into local pubs and bars; there were
that many performances. Today this is become a trickle of shows,
virtually none at the Uni, no one decent at the pubs and with only the
faithful punters or those out to see the latest cool group attending
the local gig spot.
A former singer, who once played locally,
that I watched as a teen, was working for Killing Heidi selling their
merchandise. This is a guy who should have been on stage, but because
of the decline in demand for bands, is stuck selling for other bands
rather than his own. He was defiant about continuing to perform despite
the downturn and it wasnt just a matter of not being able to do
anything else, but he had to play music as if it was in his blood. He
agreed that the old scene was a very privileged time to be a music
lover, for those involved in putting together the events and those who
attended.
What caused the decline? It could have been any
number of things, music piracy, less national support for the arts, the
reduction in state grants for underage gigs, increases in costs and the
moving away from live performances to TV and movie idols who have the
power of big advertising machines on their side (Delta Goodrem is one
performer who is way over exposed).
The worst part about this
decline is that the young people have nothing to do and in my own town
they are even turning to Country and Western Music (sorry, I'm not a
big fan). This change in musical emphasis has alienated the majority of
locals and international uni students who spend time here. They feel
they have to buy a big hat, a big dusty Ute and cowboy boots just to
fit in. This has happened in a place that was once more interested in
diversity than the status quo and has been virtually invaded by people
from far off smaller towns.
Heres hoping that the trends and conditions change again for the better.
For more on the band visit: http://www.killingheidi.com.au
For Violet Town info go to: http://www.arts.monash.edu.au/ncas/multimedia/gazetteer/list/violettown.html
See Matts blog at: http://lightofthequasar.blogspot.com/
Copyright Matt Holt, 2004
---
more in Entertainment
The rise and rise of Ellen Page
Ellen Page is without question the woman of the moment in Hollywood right now. With a Best Actress Oscar nomination recently stacked up alongside a list of achievements for her turn in 'Juno', including being named the Breakthrough Actress of the Year at the Hollywood Film Festival, she is, to coin a lovingly overused tinseltown term, 'hot' right now. Piping hot.
Between a Rock and a Heart Place
Screw Geoffrey Chaucer. Not for his poetry, quite honestly, I don't think I've ever read any of it, but because apparently he inadvertently created Valentine's Day. I didn't know this until recently. I just assumed the holiday was the byproduct of greeting card company greed and lack of anything better to do in the month of February, but evidently it's been around for quite some time.
Halle Berry burns at the box office
Buried deep within the embers of grief, a spark of friendship ignites in relationship drama 'Things We Lost in the Fire'. However, while this thoughtful, emotional film delivers some strong performances and appealing cinematography, don't expect a blaze of drama and excitement.
Girls Aloud or Girls Alone?
Despite having fame, wealth, beauty and a hugely successful pop career, the members of Girls Aloud seem to be lacking in one department - a happy and healthy love life.
Great American Dumb Ideas: Elder Blues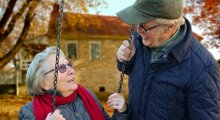 Fads in mental health diagnoses come and go. Something called Existential Neurosis was popular for a while, but seems to have lost some of its gloss in recent years. For a long time now, any high-energy, active child risked being diagnosed—often misdiagnosed—with Attention Deficit Hyperactive Disorder (ADHD).