Bored at the airport? 5 fun things to do while waiting for the plane

I'm a frequent traveller, and more often than I'd like to admit, I've been travelling with cheap airlines. It isn't bad all by itself. However, if it's not a direct flight, it can often mean that you need to stay at the airport the entire night. While sometimes you really feel like sleeping and find yourself a few seats to get comfortable, more often than not it's not the case. You will just end up being bored at the airport. So here are just a few ideas from my own travels as well as from people around.
Book and movies
This is probably the most obvious one. It's always good to have a book or two with you to keep you company during flights or during the boring time at the airport. If you have a laptop or tablet with you, also watching movies is a good idea. These days you can use Netflix anywhere, or if there's a problem with that, even
Youtube
offers a great number of free series and movies.
Games
I've seen people at the airports playing first person shooters on their laptops and enjoying themselves for hours at a time. Or using their mobile to play sudoku or snake (that's awesome if you still happen to have the oldest Nokia phones). I've done both of them myself, but this can also get boring. So sometimes I play poker, or spend an hour at an online casino like the one you can find at
http://www.grizzlygambling.com/zodiac-casino.html
. The good thing about the latter is that it doesn't matter if have a laptop/tablet with you or only have your smartphone, you can play on both.
Make a video
Now, this might not be for everyone, but at the same time these days, if you really wanted to, you could achieve the same as this guy. A few years back a guy
bored at the airport made a video
with his phone to the music of "All By Myself". If you have lots of time to kill, why not give it a shot.
Play tennis or volleyball
Now, before you will say it sounds crazy, I have seen and done it once in my life. Under a bit extraordinary circumstances though. And obviously, for this to be an option, you need more people than just yourself. A few years back when I had to stay a night in Spain, at Malaga airport, I met a few guys who were living there (long story, but yes, three of them had been living at the airport for 1 - 11 months) and during the night we played tennis with golf! balls. So I know it can be done. Whether it's a good idea or not, with all the glass walls, is of course a good question. But if you happen to have a tennis ball with you, and hard cover book, why not?
Work
If you ask me, a night at the airport might be the best time to work. It's quiet, you don't feel like sleeping, and you have all those thoughts going through your head. So why not use the time to actually work some. Depending on your profession, it can be from actual work on your laptop to making plans for future work or simply spend your time thinking how and what to do better once you get back.
---
more in Travel
Norwegian to offer $65 transatlantic fares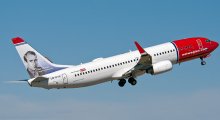 Low cost airline Norwegian is planning to start offering transatlantic flights with ticket prices starting at just $65 one way.
Risky behaviour on holiday - 44% of Brits have put themselves in potentially dangerous situations
New research suggests that many people have put themselves on potentially dangerous situations when on holiday, behaving differently than they would do at home.
Thinking of going to a holiday? Then please don't be a moron!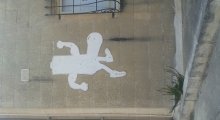 Many of us like to travel around the world whenever we can do it - meaning, whenever we have enough time, and money, to do that. Being on a holiday should be fun, and obviously, you should enjoy it.
How to Stay Safe While Travelling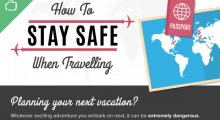 This infographic was brought to you by Baltictravelcompany.com....
Travelling To The PGA Championships 2015: Top Tips To Help You Get The Most Out Of Your Golf Holiday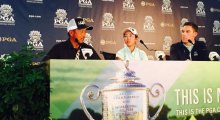 As one of only four golf majors each year, the PGA Championship is a very prestigious event indeed. If you are lucky enough to be heading to Whistling Straits this year there are a few handy tips you can keep in mind in order to get the most from the experience.