Vacation Spot: Avalon, Santa Catalina Island, California
Just 26 miles off the coast of Southern California sits a lovely little island called Santa Catalina, an island that offers a variety of activities.
Although this was my second stay on the island, it was the first time with my husband and my three children. I already knew the most important things - how to get there and where to stay.
My personal favorite is the Catalina Flyer. The Flyer is a large catamaran, and it leaves from Newport Beach. The reason I love the Flyer is because the schedule is simple - they go to Catalina in the morning and they go back to Newport in the late afternoon. They also have a human being who answers their phone. Believe me, this is a rarity in this era. There is a luggage area where all the luggage is left, and from there, you can chose it sit inside on one of two levels or outside on one of three levels. You call for reservations, but pay the day you travel.
The Catalina Flyer
The seas between the mainland and the island arent usually rough, but even a bit of a chop may be too much for the sensitive stomach. Dramamine is a necessity if youve never traveled by boat or if you know you get seasick. The Catalina Flyer is adequately equipped with restrooms and bags for those who cant make it that far. And then theres always the rail, if you happen to be outside. They do not sell motion sickness medication on board, so its always best to come prepared.
Avalon, Catalina Island
The main town on Catalina is Avalon, a quaint little town dominated by hotels, restaurants, and gift shops. The main street that leads along the harbor and through town is Crescent Avenue, and right on this street is my favorite hotel - Hotel Mac Rae. This is a fairly small, family owned hotel that has been under the same ownership for over seven decades. The rooms are comfortable, with a toilet and shower and all also have air conditioning.
Hotel MacRae
This hotel is distinguished by quite reasonable room rates, especially off season and mid-week, and a wonderful courtyard with lounge chairs and umbrellas- just the place to enjoy a good book or have a rest after an afternoon of shopping. The other two features that make the Mac Rae the spot to stay are the delightful morning pastries with coffee and orange juice and a number of videotapes that can be checked out at the desk for viewing in each rooms video player. Although there is no swimming in the harbor area right in front of the hotel, the sand makes for a good play area for the children, and a lovely spot for a bit of sun. Beach towels can also be checked out at the hotel desk at no charge.
Hotel MacRae Courtyard
If you are a traveler that cant go without checking your e-mail while on vacation, the Tradewinds giftshop on Sumner Avenue includes a cyber caf with two computers, and two terminals for those of you that travel with a laptop. Not only can you look through the jewelry and clothing the shop offers, but you can also enjoy a latte or coffee while working through answering your mail.
If you are looking for an even more relaxing vacation, you can enjoy a massage at A Touch of Heaven, where Angel and his associates will work out those remaining knots or you can enjoy a refreshing peppermint scalp treatment. You can find them in the mall, located at the corner of Crescent Avenue and Metropole Avenue. During the season, it is best to call well in advance for a reservation. Their rates are really quite reasonable and the treatment rooms are relaxing and inviting.
Massage at A Touch of Heaven
There are a host of tours that explore not only the waters around the island but also the island itself, including an inland tour where you can see the island's herd of domestic bison. One of my favorites is the Glass Bottom Boat Tour, offered by Catalina Adventure Tours. On the tour you get a wonderful view of the sea life that has flourished under government protection. The cost is quite reasonable, and the tour includes an area that is not open to any other form of exploration - in many of these spots you cant even drop an anchor, let alone snorkel or scuba dive.
There are, of course, many other options for hotels, spas, and tours, not to mention a plethora of shops and restaurants. The best place to start is on the Internet, and then find the accommodations and activities that suit you and your fellow travelers.
For general information www.catalina.com
Catalina Passenger Service - The Catalina Flyer 949-673-5245
The Hotel Mac Rae 800-698-2266 or 310-510-0246
A Touch of Heaven www.atouchofheavendayspa.com
The Tradewinds 310-510-0010
---
more in Travel
Fear of Flying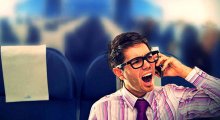 I'm not afraid of flying . . . I hate landing.
Bratislava and Slovakia
In the summer of 2003, I seized the chance of a personalized invite to Bratislava. Upon arriving at the city's train station from Budapest, I was collected by Tómaš, a Slovakian I had met in Vancouver, who was then toiling as a tech wizard for Orange telecom. On this piping hot day, Tómaš and his high-IQ biologist wife Katrina drove us in a smart new Skoda (the famous Czech car) to an ice cold crystal lake on Bratislava's outskirts. Here, amongst the tolerance of naked or non-naked bathers, we could happily cool ourselves off before proceeding to eat a Slovakian staple, apricot jam-filled dumplings, that were prepared by his mother,.
Pumped in Poland
Grey and impoverished, a downtrodden land inhabited by dour cynics. This was my perception of Poland prior to going there.
Circumnavigating an Insane Planet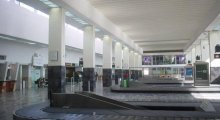 Say what you will about traveling light, it is a sound theory, and one which I usually adhere to, but if you happen to be on an around the world journey, traveling lets say, from Perth on the West Coast of Australia to the United Kingdom up into northern Scotland, then flying across the Atlantic to Toronto and from there down to San Francisco, over to Sydney and finally back home to Perth again, as my wife and I did last year, you will no doubt find that the notion of traveling light is simply not a feasible plan.