TRAVELWISE TRAVEL WARNING. DO NOT TRAVEL TO FIJI. 5 NOVEMBER 2009.
This article belongs to Travelwise column.
As a direct result of the latest developments in Fiji whereby the Fijian military dictatorship has thrown both the Australian and New Zealand High Commissioners out of the country as well as the removal from Fiji of a Fijian-born Australian academic, after he criticised the Bainimarama military regime, I have no option but to strongly recommend that people intending to
travel
to Fiji for both holiday or business purposes, refrain from doing so as their safety can now no longer be guaranteed.
The Travelwise
travel
advisory now clearly must read "Do Not
Travel
To Fiji For Any Purpose".
As a consequence the
travel
advisory must also apply to Fiji's airline Air Pacific as it uses Nadi Airport as a destination and transit airport.
While the
travel
advisory primarily applies to Australian and New Zealand citizens, it also applies to EU and US citizens as well as citizens of any other countries with sanctions in place against the Fijian regime.
In my view, traveller safety is paramount when
travelling
to specific countries and in Fiji's case, given the latest developments, safety can no longer be guaranteed.
This
travel
advisory remains in place until the current military dictatorship removes itself from Fijian political processes as to accommodate proper democratic processes including the conducting of EU and internationally-monitored elections.
Recommendations. DO NOT TRAVEL TO FIJI.
Alternatives. Vanuatu, New Caledonia,
Henk Luf.
Travelwise.
---
more in Travel
The Indian Pacific - An Australian Journey from East to West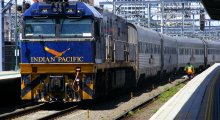 The Indian-Pacific is an interesting train in that it runs from Sydney, on Australia's east coast to Perth on Australia's west coast via Central NSW, South Australia and a substantial slice of Western Australia. It has been running since the 1970's and despite having been renovated a number of times, it is starting to show its age a bit but it is still one of the world's more interesting railway trips.
TIGER AIRWAYS 10-10-09. CAUTION ADVISORY
Tiger Airways is one of the more recent entrants into the Australian domestic airlines market. It is an 'el-cheapo' budget carrier flying Airbus A320s to and from Australia's major capital cities.
LONDON TO PARIS IN JUST OVER TWO HOURS. 2nd October 2009
Yes, for those of you wish to have a real train experience, I think a trip on Eurostar from London to Paris or from London to Brussels might be one that would put a whole new light on one's opinion of what train travel should be like instead of what it is today in some countries.