TRAVELWISE TRAVEL WARNING 17 OCTOBER 2009. PAKISTAN. DO NOT TRAVEL TO PAKISTAN.
This article belongs to Travelwise column.
As a result of a current Pakistani Army ground offensive in the Pakistani Tribal Regions bordering Afghanistan as well as the fact that major air strike activity in the Pakistan / Afghanistan border regions is being intensified, Travelwise is issuing a 'DO NOT TRAVEL TO PAKISTAN' warning.
The border regions are extremely dangerous territory at this point in time and persons
travelling
into these regions are highly likely to be intercepted by either the Pakistani Army, other ground forces or through air strikes on a 'shoot first ask questions later' basis and the likelihood of border region travellers being returned home in a box is better than 99% at this point in time.
Taliban retaliatory action in other areas of Pakistan is ongoing and is extremely likely to increase in weeks to come and therefore movement within Pakistan will be either unpredictable and even dangerous.
There is also a high risk of air strikes being conducted on Pakistani territory other than the border region as to remove Taliban elements from within those areas.
As with Afghanistan, Pakistan is a dangerous place these days.
Henk Luf.
Travelwise.
---
more in Travel
The Indian Pacific - An Australian Journey from East to West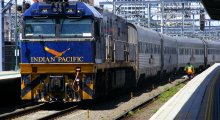 The Indian-Pacific is an interesting train in that it runs from Sydney, on Australia's east coast to Perth on Australia's west coast via Central NSW, South Australia and a substantial slice of Western Australia. It has been running since the 1970's and despite having been renovated a number of times, it is starting to show its age a bit but it is still one of the world's more interesting railway trips.
TIGER AIRWAYS 10-10-09. CAUTION ADVISORY
Tiger Airways is one of the more recent entrants into the Australian domestic airlines market. It is an 'el-cheapo' budget carrier flying Airbus A320s to and from Australia's major capital cities.
LONDON TO PARIS IN JUST OVER TWO HOURS. 2nd October 2009
Yes, for those of you wish to have a real train experience, I think a trip on Eurostar from London to Paris or from London to Brussels might be one that would put a whole new light on one's opinion of what train travel should be like instead of what it is today in some countries.
SYDNEY. The Good, The Bad and The Ugly. 25 September 2009
Sydney has been one of Australia's main international destinations for visitors from other countries and while other Australian cities are now beginning to make an impact, Sydney is likely to remain Australia's main gateway for some years to come.