TRAVELWISE TRAVEL WARNING. 17 September 2009. JETSTAR AIRLINES
This article belongs to Travelwise column.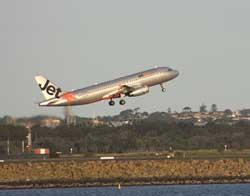 After an incident with one of its aircraft at Bangkok, whereby passengers has to sit in the aircraft on the tarmac without airconditioning and food for 3 hours 40 minutes, I have decided to issue a 'no fly' warning on
Qantas
subsidiary Jetstar.
This latest incident is just the latest in a series of incidents in relation to the airline going back a number of years.
People have had to find their own way out of an airport hundreds of miles away from their schedule destinations, passengers have been left stranded in the middle of the night without alternatives being provided by the airline, aircraft have been delayed for hours without proper warnings and advisories being provided and the list goes on and on and on going back a few years.
The 'no fly' recommendation is effective immediately and will remain valid until further notice and until otherwise advised.
Recommendation: Do not fly with this airline. It has proven to be unreliable and therefore
travelling
with this airline is not good value for money.
Henk Luf
Travelwise
---
more in Travel
SINGAPORE 8 September 2009
Singapore is one of those places that most people in transit to other destinations in Europe would have visited at one time or another. I am of the view though that Singapore represents much more than just the transit lounge at Chang Airport and that this small country is well worth a visit.
World's tallest monoliths in Jaintia Hills, India
The cluster of monoliths in Jaintia Hills, Meghalaya is a testimony of Jaintia rulers' strength. It's an amazing site as the monolith is sure to kindle your thought of man's greatest idea and knowledge, Saidul Khan reports.