The Wintry wiles and whales of Victor Harbor
My wife and I wanted a romantic holiday where we could just laze around and take it easy. We wanted a real holiday, instead of a marathon of planes and taxis and humping luggage around.
A Victor Harbor letting agent in South Australia arranged a holiday house on a hill overlooking the harbour and Granite Island. Oh! No, I can hear you saying, you can never get those houses and the crowds are enormous with young people taking over the place. That's true in the summer, but not in winter.
Victor Harbor is a magic place in the winter that allows you to admire and appreciate nature. The house we rented had large picture window over looking the causeway; I stood at the window and watched the sea all the way from Antarctica, pound into the beach, while the rain lashed the glass. A fire blazed in the fireplace as I wrapped my hands around a cup of coffee and watched the flotsam wash up on the beach. I smelt salt in the moist air as I watched the sea wash ashore. The tide raced in around both sides of Granite Island and met at the causeway in an almighty clash of spray and water.
On a balmy, fine winter day, we strolled across the causeway and visited Granite Island. We stood atop the island, on a cliff, just above the kiosk, and marvelled at the force of the sea as it crashed onto rocks sending spray 30 metres skyward. I had feelings of awe and felt a shudder of fear as I imagined the raw power of the sea and what it would do to my puny body if I slipped off the rocks. The Island is made for getting back to nature and appreciating the natural things like rock formations and the animals that roam free in the middle of the island. We rode the ski lift, had dinner in the restaurant, waited until nightfall and watched the fairy penguins come in from the rough winter sea and waddle up to their nests. We rode the horse-tram back along the causeway and bought an ice cream in the kiosk after alighting from the tram on the mainland.
Everything seems to be cheaper in winter, our holiday house was $750.00 per week in the summer; our rate was $350.00. There are special rates to attract patronage at restaurants, the golf course and craft shops. Waiters and shop staff welcomed us, they had time for us, there was no rush, there was time for good old country hospitality. Most nights we ate out in excellent restaurants, with the Beachcombers Restaurant at Apollon Motor Inn and Whalers Inn our favourites. There was a feel of winter romance about eating at cosy restaurants, something we can't normally afford. Sometimes we bought fish and chips and sat on a seat near the beach as the cold wind blew around us with the warm food making us feel good.
Other days we stayed in all day except for going to a restaurant for the evening meal. I lost myself in a Sidney Sheldon novel, as did my wife, in a Danielle Steel book. Sometimes I gazed out the window at the nature show unfolding before me. If it was raining, we would rug up, walk along the beach, and check out what had been washed up. One day I found a beautiful shell with brownish colours inside its outer casing. We loved walking in the rain; somehow, it seemed naughty and childish. Something our mothers would have objected to -- that's why we loved it.
We had time to appreciate the rich history of the area, see the historic meeting place between Matthew Flinders and Nicholas Baudin in Encounter Bay, where the early whalers hunted, appreciate early agriculture too and how Victor Harbor was important in early Murray River trading. We climbed the bluff on an overcast fine day and like early whalers looked expectantly seaward. We think we saw a whale in the distance beyond Granite Island.
Winter in Victor Harbor is the whale-watching season. Although the distant sighting from the Bluff was our only view of a whale, Southern Right Whales swim north seeking the warmer water and there can be 60 sightings in a good season. We checked with the Whale Centre every day hoping for an opportunity to see these beautiful animals as they frolicked with their calves. This year we were disappointed; maybe next year.
Despite our failure to see frolicking whales, we were seduced by the wintry wiles of Victor Harbor.
---
more in Travel
Fear of Flying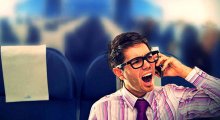 I'm not afraid of flying . . . I hate landing.
Bratislava and Slovakia
In the summer of 2003, I seized the chance of a personalized invite to Bratislava. Upon arriving at the city's train station from Budapest, I was collected by Tómaš, a Slovakian I had met in Vancouver, who was then toiling as a tech wizard for Orange telecom. On this piping hot day, Tómaš and his high-IQ biologist wife Katrina drove us in a smart new Skoda (the famous Czech car) to an ice cold crystal lake on Bratislava's outskirts. Here, amongst the tolerance of naked or non-naked bathers, we could happily cool ourselves off before proceeding to eat a Slovakian staple, apricot jam-filled dumplings, that were prepared by his mother,.
Pumped in Poland
Grey and impoverished, a downtrodden land inhabited by dour cynics. This was my perception of Poland prior to going there.
Circumnavigating an Insane Planet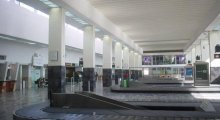 Say what you will about traveling light, it is a sound theory, and one which I usually adhere to, but if you happen to be on an around the world journey, traveling lets say, from Perth on the West Coast of Australia to the United Kingdom up into northern Scotland, then flying across the Atlantic to Toronto and from there down to San Francisco, over to Sydney and finally back home to Perth again, as my wife and I did last year, you will no doubt find that the notion of traveling light is simply not a feasible plan.